February 2021
Somerville Community Corporation received a tax-exempt bond of $11,444,274 from MassDevelopment to improve affordable housing. SCC will use the bond proceeds to refinance previously issued debt used to buy and preserve the affordability of 69 housing units in multifamily facilities at various locations in Somerville, as well as complete renovations to several of the facilities. Read more in this article.
January 2021
Hilltown CDC and North Shore CDC projects received funding from the Federal Home Loan Bank of Boston. The bank awarded $7.2 Million to five Massachusetts affordable housing projects, through its Affordable Housing Program (AHP), part of more than $53 Million awarded to affordable housing initiatives in New England. Read more about the projects funded in this blog article.
November 2020
October 2020
September 2020
August 2020
March 2020
February 2020
SIx MACDC members receive Community Development Capital and Microlending grants to support job creation and small business growth. Congratulations to Community Teamwork, Franklin County CDC, Coastal Community Capital, Cooperative Fund of New England, Jamaica Plain NDC, and Quaboag Valley CDC. This program was established in the Economic Development Bond Bill in 2016 following a campaign by MACDC to promote small business development.
January 2020
December, 2019
November, 2019
October 2019
September 2019
July 2019
The Baker-Polito Administration, on July 18, announced $118 million in funding for the production and preservation of 1,581 affordable homes. Of the 28 projects funded, 12 are sponsored by MACDC members: B'nai B'rith Housing, Berkshire Housing Development Corporation, Dorchester Bay EDC, Lena Park CDC, Mission Hill Neighborhood Housing Services, North Shore CDC, Nuestra Comunidad Development Corp., The Neighborhood Developers, The Women's Institute, Urban Edge, and Worcester Common Ground.
Valley CDC Celebrates Grand Opening of Lumber Yard Project: On a warm late June afternoon, Valley CDC's friends and supporters joined public officials to celebrate the completion of Valley CDC's redevelopment of the former Northampton Lumber Yard Company site, near downtown Northampton. The newly constructed four-story building will provide affordable homes for 55 families, 5,400 square feet of street-level commercial space, and office space for Valley CDC. Valley CDC partnered with Way Finders in the redevelopment, and Way Finders will manage the property. The Grand Opening included remarks by Northampton Mayor David Narkewicz, DHCD Undersecretary Janelle Chan, and other dignitaries. Refreshments, good conversations, and a tour of the building made it a great afternoon!
Housing Assistance Corporation's Rent 365 Program encourages year-round rentals on The Cape. Incentives to participating homeowners include a $1,000 bonus, a lease template, and a free 30-minute phone consultation with an attorney. The program launched last fall and has enrolled 18 homeowners to date. The goal is 25 for its pilot phase.
On June 20th, Somerville Community Corporation kicked off its 50th Anniversary Celebrations with a breakfast at the Blessing of the Bay Boathouse. The event included a keynote address by Dr. Karilyn Crockett on community building, activism and commitment to social justice, and ended with Mayor Joseph Curtatone and SCC CEO Danny LeBlanc jumping into the Mystic River. Read more about the eventful morning here.
Just-A-Start Corporation recently completed renovations on 112 units of affordable housing in Cambridge, including construction of a new building at 50 York Street, which was destroyed by a major fire in 2016.
The Metropolitan Area Planning Council (MAPC) recently hosted a Peer Exchange of leadership teams from seven regional planning agencies across the country and the National Association of Regional Councils (NARC). MAPC shared hosting responsibilities with Madison Park Development Corporation and Somerville Community Corporation, along with other organizations.
June 2019
Neighborhood of Affordable Housing (NOAH) is working with the Mayor and the Department of Neighborhood Development to buy three-decker houses and keep working families, who may otherwise be evicted, living in their homes. NOAH has already purchased 15 buildings. A long-time East Boston resident, who NOAH is helping, was recently featured on the Boston 25 News by 25 Investigates' Kerry Kavanaugh. Watch the report here.
May 2019
After serving as Executive Director of Madison Park Development Corporation for 20 years, Jeanne Pinado prepares to step down. WGBH's Saraya Wintersmith recently took a driving tour of MPDC's real estate in Roxbury with Jeanne, during which they talked about the CDC's accomplishments under her leadership, as well as her plans and MPDC's plans for the future.
SEED Corporation welcomes Susan E. Murray as new Executive Director: Susan started her tenure on May 10. She has 30 years of experience in commercial and community banking, and has been involved with many community organizations.
April 2019
MACDC congratulates Chris Sikes on his retirement as President of Common Capital Inc, after 30 years of service. Chris founded CCI (then known as Western Mass Enterprise Fund) in partnership with local CDCs and MACDC long before the CDFI industry has blossomed across the country. Throughout his tenure, Chris was a tireless advocate for small business, an innovative thought leader in the CDFI movement, and creative practitioner who helped hundreds of businesses throughout the region. "Much of what I know about small business development, I learned from Chris when I served on his board from 1995 to 2005," said MACDC President Joseph Kriesberg. "His impact on the field extends well beyond Western Mass to include the entire Commonwealth and the Country. I look forward to taking advantage of his newly found free time to provide me (and MACDC) with continued mentorship and friendship."

Congratulations to South Boston NDC on breaking ground at O'Connor Way, 46 new homes.

Asian CDC, Corcoran Jennison Cos, and Tufts University to build a 45 homes for low-income residents as well as 107 residences for low- and moderate-homeownership, The Boston Globe reports.
Congratulations to Karen Sheers, a Community Organizer at Dorchester Bay Economic Development Corporation, on her reciept of the first Community Ambassador Award from Keolis.
Check out this great video by Harborlight Community Partners highlighting their Boston Street Crossing development. The before and after images are incredible.
November 2018
October 2018
NewVue Communties and WHALE awarded grants through the Baker-Polito Administration's $2.2 million Collaborative Workspace Program;

Congratulations to Pat Flaherty of Mission Hill NHS for receiving Hall of Fame award and Leslie Reid of Madison Park Development Corporation for receiving a Rising Star Award by Metropolitan Housing Partnership.

Helping respond to the crisis in Lawrence, Andover, and North Andover, Mill Cities Community Investments is managing the Small Business Emergency Loan Fund, which was recently recapitalized with an additional $2 million in funds;

Congratulations to SEED Corporation on making $19.3 million in small business loans in 2018, which helped create 306 new jobs;

Congratulations to Housing Assistance Corporation on completing 44 mixed-used apartments in Bourne.

Check out this video that highlights what Lawrence CommunityWorks, NewVue Communities, and The Neighborhood Developers accomplished through the Working Cities Challenge.

Housing Assistance Corporation released a study covering the scarcity of housing on the Cape. As the Cape Cod Times notes, "In the Housing Assistance Corp. report unveiled Tuesday, "Housing on Cape Cod: The High Cost of Doing Nothing," a sampling of online rental listings showed the average rent for a room in a house was $75 a month, the average studio rent ran close to $1,000 a month, and renting a three bedroom home cost $1,875," Doug Frazier, Cape Cod Time (CLICK HERE to read the article). To read the report by HAC, CLICK HERE.

Mill Cities Community Investments (MCCI) to manage an emergency loan fund for businesses impacted by the natural gas disaster in Lawrence, North Andover, and Andover communities. "MCCI is pleased to provide ongoing support, including managing the emergency loan fund for the businesses that were affected by the gas disaster," said Mill Cities Community Investments Executive Director Frank Carvalho. "MCCI is properly staffed culturally and linguistic to provide this most needed service and we thank our community lending partners and MGCC for making this resource available to help our business community."

Hilltown CDC celebrates the grand opening of 10 new affordable apartments for seniors in Goshen, Mass. The Community Preservation Act supported project, "has set an example for rural America about how small communities can come together and do something to protect their way of life."

Asian CDC's (ACDC) ANCHOR (Activation, Needs, Community, Housing and Open Spaces, Residents) creative placemaking initiative seeks to "remind Chinatown residents and visitors that Chinatown is a place of live, work, and play." The ANCHOR project is an initiative to stabilize Boston's Chinatown that revolves around anchor landmarks and is "dedicated to preserving Chinatown residents, businesses, and cultural institutions."

South Eastern Economic Development (SEED) Corporation receives $600,000 grant from the Community Development Financial Institution (CDFI) Fund that will "enable SEED to continue meeting the financing needs of start-ups and expanding small businesses in underserved markets, and economically distressed areas in our region."

Metro West Collaborative Development's Glen Brook Way project receives permit to add an additional 44 units of housing! The completed project will include 48 family units and 44 senior units.

Jewish Community Housing for the Elderly is now 2Life Communities. The name change was spurred by the organization's need to capture their "vibrancy while reflecting our Jewish identity. 2Life Communities embodies the central tenet of L'Chaim, celebrating life, and also captures enthusiasm round the 'second phase' of life and all of its possibilities."
September 2018
July 2018
East Boston CDC, in partnership with Trinity Financial and the Boston Housing Authority, recently completed the first phase of the Orient Heights redevelopment project which added 120 new public housing homes to the housing stock.

CDC's will go to great lengths to secure affordable housing. Check out the pictures from OneHolyoke's #HouseMovingDay.

Congratulations to NeighborWorks of Southern Mass for participating in the recently launched, NeighborhoodLIFT program. The program, a collaboration between NeighborWorks America and Wells Fargo, assists first-time homebuyers with $20,000 in down payment assistance.
June 2018
May 2018
April 2018

March 2018
February 2018
January 2018
Urban Edge's Jackson Square Recreation Center is $500,000 closer to becoming a reality thanks to a grant from the TD Charitable Foundation.

North Shore Community Development Corp.'s open-air murals are a stunning approach to transforming affordable housing. Scroll over to page 48 of Design New England magazine to read about North Shore CDC's innovative approach to neighborhood revitalization.

Long-time affordable housing and climate change advocate, Phil Giffee, Executive Director of NOAH CDC, urges the city and its residents to make resiliency a priority after unprecedented flooding in East Boston and the Seaport District.

Congrats to Just-A-Start on their 50th Anniversary! Watch their video highlighting their incredible role in developing affordable housing and creating opportunities for youth and young adults in Cambridge! Here's to 50 more years of success!

Dorchester Bay EDC is set to launch their online lending platform for their Small Business Assistance Center program. DBEDC plans to expand its lending to $400,000 microloans that will result in more than 100 jobs retained or created.

Codman Square NDC goes green with the installation of solar panels at 16 of its multifamily homes. The transition to renewable energy will produce an environmental impact that's equivalent to planting 515 acres of trees!

On January 21st, JALSA will present Jeanne Pinado with the Distinguished Leadership Award at its annual meeting. Jeanne is being recognized for her role in transforming the Roxbury neighborhood, developing affordable housing, preserving Hibernian Hall, and establishing a host of community programs. To learn more about this event, visit JALSA's event page.

Vanessa Calderon-Rosado, Executive Director of Inquilinos Boricuas en Accion, was recently featured in the Boston Globe, here are five things you might not know about Vanessa Calderon-Rosado.
December 2017
Congratulations to JPNDC and Madison Park Development Corporation, recipients of TD Charitable Foundation's "Housing for Everyone" grant. This funding will advance two new projects for the Jamaica Plain NDC, the General Heath Square Apartments, and the Lorenzo Pitts Portfolio, which will add 47 new affordable homes and preserve 193 at-risk affordable apartments. Madison Park DC will use the funding for the Madison Melnea Cass Apartments project which will add 53 new homes for low and moderate income families in Roxbury.


The Best Ethel Ever! Congratulations to Ethel Griffin on her Lifetime Achievement Award. Check out this incredible video by Revitalize CDC honoring Ethel and her work in Springfield.

On December 6th, MACDC's Members Housing Solutions and NeighborWorks of Southern Mass along with a diverse group of stakeholders held a housing roundtable discussion with Rep. Joseph Kennedy. They expressed their concerns about the impact the tax reform could have on LITHC, Historic Credits, New Market Credits, the Section 8 program and FSS, elderly housing, and block grants. Rep. Kennedy cautioned that Democrats will be marginalized in the tax reform process and suggests that national affordable housing organizations orchestrate pressure on legislators in New York, California, New Jersey, and Illinois.

Congratulations to MACDC's members Housing Assistance Corporation on Cape Cod and Community Development Partnership for founding the Cape House Institute (a program designed to address the region's housing problems), and celebrating its first cohort of program graduates, which included 100 Cap Cod town officials.
November 2017
October 2017
$900,000 grant from the Massachusetts Community Housing Initiative helps Island Housing move forward on housing development in West Tisbury.
Community Teamwork Inc's Youthbuild program receives $1 million grant to help young adults earn a GED and receive job training in culinary or construction industries.
NeighborWorks of Southern Mass and WinnCompanies partner to develop 140 mixed-income apartments in Quincy.
Viet-AID celebrates the completion of the new Upper Washington apartments with incoming tenants and Mayor Walsh.
Nuestra CDC receives $250,000 grant to support the development of a community grocery store in Roxbury.
Harborlight Community Partners and the City of Beverly move forward on 40R "Smart Growth Zoning Overlay" project that will bring 60-80 units of housing to the city.
AUGUST 2017
Housing Corporation of Arlington secures funding to convert the former Arlington Heights Methodist church into nine-units of affordable housing.
Dorchester Bay to convert historic Pierce Building in Upham's Corner into commercial innovation hub
Lena Park CDC and New Boston Fund partner to redevelop the former Boston State Hospital into 41-units of mixed-income homeownership in Mattapan.
Dorchester Bay EDC taps local talent, Outside the Box Agency for #DotImpact Video Series.
Jamaica Plain NDC, The Community Builders, and Urban Edge partner to renovate Boston Housing Authority's 199-unit residential building for senior citizens and disabled people. Additionally, they will develop 10 new units in a space currently used for BHA offices.
"HAC and CDP Launch Cape Housing Institute: HAC CEO Alisa Galazzi and Community Development Partnership (CDP) Executive Director Jay Coburn have announced a collaboration between their two agencies that would address the challenges local municipalities face due to the shortage of affordable housing on Cape Cod." READ MORE
JULY 2017
NOAH engages vulnerable community residents to prepare for climate change threat.
Housing Assistance Corporation and Preservation of Affordable Housing (POAH) celebrate the groundbreaking of their 44 unit project. This third and final phase will complete the 117-unit mixed income project.
North Shore CDC commissions local artists to turn The Point neighborhood in Salem into an urban museum.
NOAH's Youth Brigade highlighted in the WBUR's piece on bringing more trees into East Boston.
North Shore CDC's "The Lighthouses" project will bring 46 new mixed-income apartment homes to Salem.
JUNE 2017
Community Teamwork opens Merrimack Valley Small Business Center, offering a variety of business development services.

Community Development Partnership and Housing Assistance Corporation partner to create the Cape Housing Institute, a program for elected officials and municipal leaders to learn about navigating the process of affordable housing development.

WATCH CDC receives Excellence in Advocacy award from Mass Nonprofit Network.

Development Without Displacement: Dudley Neighbors Inc. Add 527 Columbia Road Property to Land Trust.

Urban Edge resident leader, Judith Lamb, is honored by state Rep. Liz Malia as a member of the Massachusetts Commission on the Status of Women's 2017 class of Unsung Heroines.

North Shore CDC uses Massachusetts Growth Capital Corporation grant to engage and celebrate immigrant-owned small business across Salem and Peabody.

South Middlesex Opportunity Council celebrates the graduation of 18 local residents from it's Joan Brack Adult Learning Center.

Community Teamwork Inc. resident leader recognized for five decades of dedication.

Waterfront Historic Area League (WHALE) announces annual preservation award winners.

The Neighborhood Developers expects its new One Beach housing development to be LEED certified.

Coalition for a Better Acre receives $500,000 grant to create a new public park along the Northern Canal in Lowell.
4/11/17 Just-A-Start plans to rebuild St. Patricks Place, which was heavily damaged in a fire several months ago. The work to rebuild the 16 units of affordable housing will begin later this month.
4/11/17 JPNDC and Hyde Square Task Force's Immigrant Speak-Out event draws nearly 100 people.
4/11/17 Oak Hill CDC receives Official Citation from the Massachusetts Senate for their work in financial education.
4/11/17 Nuestra Comunidad's first phase of the Bartlett Station has begun, the first building will include 60 apartments that will be affordable to families earning a range of incomes. The building will also include a grocery store on the ground floor that will offer new options in the neighborhood.
4/5/17 Mill Cities Community Investments leads in helping homeowners get rid of lead through MassHousing's Get the Lead Out loan program.
4/3/17 Viet-AID's 41 units of affordable housing plan approved under the Boston 2030 initiative.
4/3/17 Asian CDC receives $16.6 million from DHCD to renovate and extend affordability of 161 units of affordable housing at Oak Terrace.

4/3/17 North Shore and Salem State partner to provide free income tax prep for qualifying families.
3/28/17 Harvard and MIT students pair up with Island Housing Trust in search of innovative ways to increase affordable housing in the Vineyard.
3/27/17 Watch Asian CDC's Executive Director, Angie Liou, talk about the effect of federal budget cuts on BNN News.
3/2/17 Check out Vanessa Calderon-Rosado's, Executive Director of Inquilinos Boricuas en Acción, book review of "Villa Victoria: The Transformation of Social Capital in a Boston Barrio" by Mario Luis Small.
2/28/17 As part of the Social Innovation Forum, CEDC is set to host a "Social Issue Talk" focused on "Revitalizing Southeastern Mass". The event will be held on March 21st at noon.
2/22/17 City of Boston announced 22 million in new funding for affordable housing, several CDC's have been chosen to develop or preserve 602 units of housing.
2/13/17 Lawrence Community Works converts the previously abandoned historic Duck Mill into affordable homes.
2/2/17 Somerville Community Corporation Social Equity Campaign surpasses goal.
1/27/17 The Fairmount Indigo CDC Collaborative; a partnership between Codman Square NDC, Dorchester Bay EDC and Southwest Boston CDC, announced the launch of the Fairmount Job Referral Network. The program will focus on working with applicants and businesses along the Fairmount MBTA line. Learn more about their inaugural job fair.
1/18/17 Lawrence works on turn around with Lawrence Venture Fund administered by Mill City Community Investments
1/11/17 Somerville Community Corporation held a ribbon-cutting ceremony for their 35-unit complex for families earning below 30 percent of median income in Somerville.
1/4/17 Housing Corporation of Arlington beats end of year fundraising goal with help from Board of Directors and CITC.
1/3/17 Local artist teams up with the JPNDC to restore historic brewery name.
12/27/16 Vanessa Calderón-Rosado and Angie Liou recognized on YW Boston's 150 Boston Women of Influence series.
12/23/16 NOAH CDC's 71-unit mixed-income Coppersmith Village project gets closer to reality with $26 million in funding.
12/20/16 Madison Park DC along with several partners receive $30 million HUD grant to invest in the Lower Roxbury Community.
12/13/16 After 42 years under Rick Presbrey's leadership, HAC has announced a new Executive Director.
12/12/16 CEDC is to take part in the 2017 Social Innovators Accelerator program.
12/08/16 Somerville CC launches Succeed Together Video Series.
11/7/16 Urban Edge partners with Union Capital Boston to increase voter turn out in JP & Roxbury.
11/2/16 Metropolitan Boston Housing Partnership's Hoarding Program brings hope to residents at risk of losing their homes.
11/1/16 Watch the Community Development Partnership's vision of "A Sustainable Future" video to learn about how they are helping small businesses go green.
11/1/16 The JPNDC raised nearly $170,000 at it's annual Octoberfest Fiesta! fundraiser. Check out pictures from the Fiesta!
10/31/16 Check out Asian CDC's pedestrian safety campaign video shot in Boston's Chinatown neighborhood.
10/31/16 Congratulations to Madison Park Development Corporation on their 50th Anniversary Gala. Watch their new MPDC @ 50 video.
10/31/16 Franklin County CDC received $250,000 to expand capacity at their food processing center as part of the Baker-Polito Administration's grants to local food ventures.
10/28/16 Congratulations to Inquilinos Boricuas en Accion on the completion of renovations to 11 SRO units in the South End. Watch the video from the event.
10/18/16 Congratulations to SEED Corporation for being named Micro Lender of the Year at the 2016 Rhode Island SBA Lender Awards a& Emerging Leaders Graduation.
10/7/16 Read about the ways Gateway Cities are reinventing their image, including how NewVue Communities sees vacant properties as vehicles of opportunity for the community.
10/5/16 Worcester Common Ground's Piedmont Plays: A Campaign to Love Your Neighborhood wins Kaboom's Play Everywhere Challenge.
10/4/16 Congratulations to Urban Edge for receiving the William L. Boyan Award from Boston Children's Hospital.
10/4/16 Thanks to Housing Solutions' recent renovations, a formerly homeless family now has a place to call home.
9/19/16 Olde Holyoke CDC has changed their name to OneHolyoke CDC.
9/15/16 Somerville Community Corporation received $300,000 from state grant to redevelop Clarendon Hill into 526-unit mixed-income complex.
9/8/16 SCC celebrated Governor Charlie Baker's signing of Bill H. 4303, An Act Establishing the Somerville Municipal Job Creation and Retention Trust. The trust will allow Somerville to collect fees from developers to ensure their projects benefit local residents.
9/8/16 Southwest Boston CDC scores first grant from a relatively new city program designed to help landlords preserve affordable housing
8/31/16 Madison Park Development Corporation celebrated their 15th Annual National Night Out with Marty Walsh. Check out pictures from the event.
8/25/16 WHALE's Co-Creative Center project receives $1 million in financing from MassDevelopment.
8/19/16 - Community Teamwork's YouthBuild students help restore iconic mural.
8/19/16 - Watch how Harborlight Community Partners builds community while hand delivering the last custom made kitchen cabinet for thei Harborlight House Rehab Project.
8/17/16 - Learn more about Dorchester Bay EDC's new partnership with the Tech Goes Home Initiative.
8/5/16 - Millennium Partners plans to work with Asian CDC to meet the city's inclusionary development policy guidelines by contributing $25 million toward affordable housing.
7/29/16 - Better together, Community Teamwork Inc. and the Lowell House announce merger in order to increase access and ease of services for their clients.
7/26/16 North Shore CDC and Action Inc. receive permit to transform vacant Harbor Village into mixed-use development.
7/14/16 North Shore CDC's annual Build Day was a tremendous success thanks to more than 100 volunteers who turned out to complete several revitalization projects in Salem and Beverly.
7/13/16 Parsons Village in East Hampton now has a new set of solar panels thanks to a collaboration between HAPHousing and Valley CDC. To commemorate the installation a celebration was held on July 14th.
7/11/16 At their 37th annual fundraiser, held at the historic Shirley Eustis House in Roxbury, Dorchester Bay EDC celebrated another year of achievements in the community. The event also served as a formal introduction of their new CEO, Perry B. Newman. Read more about the festivities.
7/11/16 Urban Edge's Jackson Square Recreation Center is $500,000 closer to completion thanks to the Roy A. Hunt Foundation.
7/11/16Learn more about Somerville Community Corporation's Leadership Development Institute, a program where emerging community leaders can learn how to become effective community organizers.
7/7/16 South Boston Neighborhood Development Corporation proposes developing two vacant parcels into a mixed-use property where all 16 units will be affordable in Boston's most expensive neighborhood.
7/1/16 Congratulations to the first 15 graduates of the Advanced Manufacturing Training Program! The program is a collaboration between Somerville Community Corporation and Somerville High School.
6/23/16 Nuestra CDC is celebrating their 35th Anniversary with a series of videos highlighting the impact they have made in the community. Gallery Eye Care is a small business Nuestra has helped along the way. Watch Gallery Eye Care's success story.
6/16/16 Just-A-Start's TBT picture from the 1970's has some serious style.
6/16/16 Check out JPNDC's TBT picture circa 1990!
6/10/16 The Neighborhood Developers' ribbon cutting celebrates opening of 39 affordable rental apartments for Seniors in Revere.
6/3/16 Boston Fed announces winners of their Working Cities Challenge.
6/2/16 Somerville's Inclusionary Zoning Law Leads Nation
5/24/16 Somerville Community Corporation received an astronomical 3,400 applications for their 35 units of affordable housing currently under construction in Union Square.
5/20/16 Nuestra CDC in partnership with POAH were selected to develop transit-oriented development in Mattapan. The proposal includes building 135 units of housing and commercial space on a underutilized parking lot.
5/17/16 Community Development Partnership's Board President, Lori Meads, has been named "2016 Community Bank Hero" by Banker & Tradesmen and was honored at their annual meeting in Boston.
5/10/16 Vanessa Calderon-Rosado from Inquilinos Boricuas en Accion was named one of El Planeta's 100 Most Powerful People for Massachusetts' Latinos.
4/26/16 Somerville Community Corporation teamed up with POAH and Gate Residential to proposal a new 300 unit development in Somerville.
4/25/16 Congratulations and good luck to MACDC Members, Inquilinos Boricuas en Accion and Mickey Northcutt from Northshore CDC for being named finalists for the Massachusetts Nonprofit Network's (MNN) 2016 Nonprofit Excellence Awards.
4/15/16 Check out this circa 1800's #TBT picture JPNDC posted of Haffernreffer Brewery!
4/14/16 Congratulations to Lena Park CDC on their inaugural gala.
4/13/16 Revitalize CDC and the Big Y SurPRIZE Squad helped improve the accessibility of the senior citizen in Springfield.
4/12/16 Check out this time lapse video of the construction of Island Housing Trust's Water Street apartments; six new apartments on the island.
4/2/16 North Shore CDC and Harborlight Community Partners held "Doughnuts with you Delegation" meeting with their respective legislators.
4/1/16 Madison Park looks to expand services for their residents, plans new community space.
3/31/16 Check out this interview with Gail Latimore on her (almost) 20 years at the helm of Codman Square Neighborhood Development Corporation.
3/29/16 Congratulations to Codman Square NDC for making all of their units smoke free.
3/29/16 With his announcement of an additional $28 million, Boston Mayor, Marty Walsh has made a total of $66 million available to create or preserve affordable housing in Boston. Many of our members, including Viet-AID, Back of the Hill CDC, Jamaica Plain NDC, Madison Park DC, South Boston NDC and Caritas Communities received funding.
3/28/16 On March 29th, David Christopolis from Hilltown CDC participated in a panel at the MA Food Trust Program's event, 'From Concept to Impact'. The event, taking place at the MA State House, will discuss ways in which the trust can "create jobs, leverage private investment, and increase access to healthy food choices."
3/22/16 Codman Square NDC and Nuestra Comunidad both put in bids to redevelop vacant Mattapan parking lot.
3/8/16 David Queeley from the Codman Square Neighborhood Development Corp will receive recognition for his work on promoting safe streets for pedestrians from WalkBoston with the 2016 Golden Shoe Award at their Annual Meeting on March 22nd.
3/1/16 On March 1st, The Neighborhood Developer's held a ribbon cutting ceremony of Lewis Latimer Place, an affordable housing partnership between The Neighborhood Developers + ROCA will provide supportive services for young parents in Chelsea. The celebration included the unveiling of an historic marker, to commemorate the birthplace of Lewis Latimer, the son of a runaway slave, who became an honored inventor working with Alexander Graham Bell and the Edison Electric Light Company.
2/29/16 Madison Park Development Corporation in partnership with Nuestra CDC hosted a "Doughnuts with your Delegation" meeting with their legislators.
2/26/16

On February 26th, Worcester Common Ground welcomed local and state officials to discuss their development goals, the challenges they face as a CDC in Worcester, and how we can work together to provide the best resources to our community and create a thriving neighborhood. This meeting was incredibly productive and successful, generating many creative suggestions which we hope to explore in the coming year.
2/10/16 - South Middlesex Opportunity Council celebrates microloan fund launch in partnership with Commerce Bank, MA Growth Capital Corp and the Worcester Regional Chamber of Commerce.
2/9/16 - Asian CDC hosted a great Doughnuts with your Delegates meeting with State Senator Tackey Chan and State Senator John Kennan.
1/28/16 - Nuestra CDC celebrates 35 years of success in Roxbury!
1/22/16 - Island Housing Trust is reporting that they used all of their Community Investment Tax Credits from 2015 and successfully completed their fundraising for the Water Street Apartments. Way to go!
1/22/16 - Codman Square NDC wins a Golden Shoe Award from walkBoston!
1/22/16 - Congratulations to Somerville Community Corporation for exceeding their 2015 Social Equity Campaign goal by raising $201,000! This is a great example of how the Community Investment Tax Credit can power donations and dramatically impact an organization.
1/15/16 - On Tuesday, January 12th, Coalition for a Better Acre won approval to acquire and redevelop the Smith Baker Center in Lowell into a community and arts center.
1/14/16 - Governor Baker spoke at SMOC about their plan to create the Framingham Business Resource Alliance with support from a new program in the Commonwealth, the Urban Agenda Grant Program.
1/13/16 - The Community Development Partnership (CDP) announced that it hired Glen Ohlund as its new Director of Economic Development. Before joining CDP, Glen was TD Bank's Community Development Manager for Northern New England.
1/9/16 - Somerville Community Corporation is installing solar panels on the rooftop of the St. Polycarp development in Somerville.
1/2/16 - Somerville Community Corporation and Somerville High School are partnering to create manufacturing training program.
12/23/15 - North Shore CDC receives recognition for their crosswalk project from the American Planning Association.
12/23/15 - Congratulations to Nuestra CDC on the opening of Ellen S. Jackson Apartments, 40 units of affordable housing for seniors in Roxbury.
12/21/15 - Mission Hill NHS celebrates the opening of the Maria Sánchez House, a 40-unit affordable housing development for seniors.
12/18/2015 - Kresge Foundation provides $660,000 grant to NOAH for climate resiliency planning.
12/14/15 - Check out Leah Camhi, Fenway CDC's new Executive Director, in the Boston Business Journal.
12/9/15 - Fenway residents protest in the rain to keep their homes affordable.
---
Vanessa Calderón-Rosado says her organization, Inquilinos Boricuas en Acción, is "thrilled" to have been chosen by the Boston Housing Authority to redevelop 146 units of housing in the South End.
---
Walsh taps Asian CDC and other groups to create more affordable housing.
---
Congratulations to NOAH for holding the ribbon cutting on the redevelopment of the Sithowski School Senior Housing apartment complex in Webster. The project $20.5 million rehab provides 66 units of housing for seniors aged 55+.
---
South Shore Housing changes its name....it's now Housing Solutions for Southeastern Massachusetts.
---
JPNDC, Urban Edge and The Community Builders to renovate over 500 homes in Jamaica Plain.
---
Congratulations to HAC on Cape Cod and POAH for completing construction of Melpet Farm, an affordable housing community in Dennis.
---
Twin Cities changes its name....it's now NewVue Communities. Check out article in the Sentiinel & Enterprise.
---
Great article on the continued revitalization of Lawrence by the Robert Wood Johnson Foundation that highlights the work of Lawrence CommunityWorks. The city of Lawrence was a 2015 RWJF Culture of Health Prize Winner.
---
Congratulations to Just-A-Start for the preservation and rehabilitation of the Bishop Allen and Norfolk Street Apartments in Cambridge. This project consists of 27 three bedroom apartments and 5 two bedroom apartments.
---
Congratulations to Janelle Chan, Executive Director of Asian CDC, who was honored by the Boston Business Journal on November 5th as one of "16 to watch in 2016."
---
Check out this great interview with MACDC Board Member, Vanessa Calderón-Rosado, in Banker and Tradesman highlighting the work of IBA and even her favorite books!
---
Congratulations to Revitalize CDC, ACT Lawrence and Inquilinos Boricuas En Accion (IBA) for receiving Community Investment Tax Credit allocations! Check out the entire list of organizations participating in the CITC program.
---
In partnership with the former Salem resident, Dominican artist Ruben Ubiera, North Shore CDC will bring art to the corner of Dodge Street and Peabody Street.
---
Senate President Stanley Rosenberg joined Greenfield YMCA and Franklin County CDC for a "greener diet" Food Day Celebration on October 24th.
---
JPNDC's new mural is featured in Boston Magazine! Be sure to create a walking JP art tour w/ their map.
---
Congratulations to The Neighborhood Developers for receiving a Neighborhood Builders grant award from Bank of America.
---
Congratulations to Madison Park Development Corporation for receiving approval from the Boston Redevelopment Authority on two projects: 1) Whittier Street public housing redevelopment, which will include 387 units; 2) Madison Park Infill, which will include 76 homes.
---
Congratulations to HAC Cape Cod the completion of the Melpet Farm Residences, which will soon be home to 27 people.
---
Critical rent support in Waltham, championed by WATCH, may go into effect
---
The Jamaica Plain NDC and the Mission Hill NHS join forces to build 47 units of affordable housing.
---
Congratulations to Community Development Partnership on the lower Cape for receiving a $100,000 grant from U.S. Department of Agriculture to establish a Farmers Market Development Program.
---
Valley CDC's Executive Director was interviewed by WRSI radio to discuss affordable housing in their area, the CDC's Pedal Poker Run and the local band, And The Kids, which Joanne's daughter is a member!
---
Somerville Community Corporation celebrated the beginning of construction of 181 Washington Street with a groundbreaking on September 17. The project, when completed, will house groundfloor commercial space and 35 units of affordable housing.
---
Harborlight Community Partners, thanks to a $4 million tax-exempt bond will be able to renovate Harborlight House, their affordable senior housing development.
---
Island Housing Trust announced a new development on Martha's Vineyard of eleven duplexes on 14.8 acres; 8.9 acres were sold to the Martha's Vineyard Land Bank as a conservation easement to further protect and preserve the island.
---
Valley CDC and HAPHousing host Parsons Village Ribbon Cutting, a new 38 unit housing development. Channel 22 News covered the project.
---
Coalition for a Better Acre held a ribbon cutting for it's Gorham Street Apartments, a 24-unit building in Lowell.
---
North Shore CDC wraps up $18 million / 11 building renovation on the Salem Point Apartments that includes not only significant green improvements to the property, but also preservation of murals painted in the 1990s and a new park.
---
Jamaica Plain NDC will be breaking ground on the 75 Amory Ave. development this month, as reported by the Jamaica Plain Gazette.
---
Check out this great video highlighting Jeanne Dubois' career at Dorchester Bay EDC.
---
Michael Moriarty, Executive Director of Olde Holyoke CDC, is joining the Commonwealth's 11 member Board of Elementary and Secondary Education.
---
The Jamaica Plain Neighborhood Development Corporation unveiled the community painted "Welcome to Jason Square" mural. Designed by JP resident, Alex Cook, and painted by 50 residents the mural aspires to welcome all those traveling through Jackson Square.
---
WHALE purchased 139 Union Street in New Bedford. They will renovate the space to become a community gallery with multi-purpose function space and space for artists to work, in addition to affordable housing for artists.
---
Dorchester Bay EDC and Madison Park Development Corporation are helping lead the hiring of people of color in Boston on their real estate development projects.
---
Check out Madison Park Development Corporation's Executive Director, Jeanne Pinado, talking about the brand new Tropical Foods supermarket development on Cityline.
---
Asian CDC's Executive Director, Janelle Chan, named a Loeb Fellow at Harvard University's Graduate School of Design. As highlighted in Asian CDC's article announcing Janelle's 10 month fellowship, "While at Harvard, Chan plans to study various new financing models to apply to community and affordable housing development, as well as creating new models for cultural economic development that could meld her two loves: food and real estate development." Angie Liou will be acting Executive Director.
---
Congratulations to Asian CDC for completing the rehabilitation of Tremont Village Apartments, 20 units of affordable housing between Chinatown and Bay Village.
---
Oak Hill CDC highlighted as a key partner in the revitalization of the Union Hill neighborhood in Worcester by Worcester Magazine.
---
Housing Assistance Corporation on Cape Cod highlights an extreme case of homelessness on the Cape.
---
Back of the Hill CDC and JPNDC are partnering on a new 47-unit, $16.4 unit affordable housing development called General Heath Square Apartments. The Mission Hill Gazette is reporting that the project just filed with the BRA to continue moving forward with the project.
---
Congratulations to Coalition for a Better Acre for helping run a National Night Out program with the Lowell police where over 400 people attended.
---
CITC in Action! Harborlight Community Partners is "introducing the Resident Advisory Committee (RAC)" to all their residents to support resident advocacy and increased recognition of affordable housing needs within the community. This is a part of their Community Investment Plan, which was submitted to DHCD as a part of the CITC program.
---
Congratulations to IBA for completing renovations to their community spaces. Boston Mayor Marty Walsh joined IBA on July 29th for the official ribbon cutting.
---
Nuestra CDC welcomes Karla Jaramillo as their new CFO.
---
The Women's Institute named Betsy Crum as their new Executive Director. Betsy was formally the Executive Director of the Connecticut Housing Coalition.
---
Allston Brighton CDC receives $11.5 million from MHIC to redevelop affordable housing in their community.
---
Great article in Worcester Magazine highlighting the incredible work of Main South CDC helping to lead the revitalization of Worcester.
---
The Boston Redevelopment Authority recently approved Urban Edge to develop the Walker Park Apartments, 49 units of housing in Roxbury.
---
"Somerville Community Corporation's Saint Polycarp Village Phase III Awarded LEED Platinum Honor"
---
Viet-AID held a groundbreaking for their Upper Washington development last week. The Dorchester Reporter featured an article on it in this week's issue, and the Mayor's Office produced a video highlighting some of the speakers.
---
Dorchester Bay EDC announces plan to develop 92-unit mixed-income development.
---
Great article by The Salem News on the CITC program, Harborlight Community Partners and North Shore CDC.
---
Allston Brighton has been working diligently to address student housing issues. Read the artcicle here
---
Check out Lawrence CommunityWorks Executive Director Jess Andor's article in Municipal Advocate magazine "Ambitious Project Seeks to Change Lawrence's Path—and That of Its Residents."
---
Congratulations to Jamaica Plain NDC's Real Estate Directors Leslie Vos for winning a 2015 Women of FIRE (Finance, Insurance, Real Estate) Award.
---
Community Development Partnership released a fantastic video highlighting their incredible work on the Lower Cape. It's informative, engaging and inspirational.
---
Franklin County CDC announces a CITC matching program with Greenfield Savings Bank. Through the support of Greenfield Savings Bank, Franklin County CDC can boast a 4:1 donation impact to donation ratio through the CITC program.
---
Asian CDC Youth set up Chinatown street art gallery to spruce up their neighborhood. Check our the article here.
---
Nuestra CDC's Bartlett Place begins demolition. The Boston Globe covers the final look at all the graffiti art that graced the existing buildings. The Boston Globe followed up on Sunday, June 13 with an editorial on the success of the arts and community activities at Bartlett Yard.
---
Lawrence CommunityWorks' Movement City hosted a block party on May 29th where a grant from New York Life was presented. Jessica Andors, Executive Director of Lawrence CommunityWorks shared, "We are thrilled to receive New York Life's investment in Movement City. …New York Life's commitment to LCW is key to helping us empower our youth here in Lawrence to explore their creative potential, gain job skills and develop dynamic portfolios for college and career."
---
CDCs in Boston are stepping up and helping take a significant leadership role understanding, promoting and incorporating health programs and practices throughout the communities in which they work. Check out what CDCs are doing through the Boston Foundation's "Health Starts at Home" initiative. CDCs involved in the program included Urban Edge, The Neighborhood Developers, Madison Park DC, and Nuestra CDC.
---
Harborlight Community Partners received $2 million make critical improvements to their 35 unit assisted living home, Harborlight House.
---
MassDevelopment recently created a 6.2 million dollar bond for the creation of Patriot Homes, a development focused on housing United States Veterans in South Boston. Caritas Communities and South Boston Neighborhood Development Corporation will use the bond to build 24 units of rental housing for low-income veterans, a much-needed benefit to a community with a reputation of military service.
---
Congratulations to Madison Park for holding a ribbon cutting on May 12 with Governor Baker and Boston Mayor Walsh to celebrate the opening of the new Tropical Foods.
---
Jeanne DuBois, former Executive Director of Dorchester Bay Economic Development Center was recently mentioned in a Boston Globe article on leadership transitions in nonprofit organizations. Read more on DBEDC and the other organizations featured here.
---
MACDC member, Watch Community Development Corporation has developed a thoughtful proposal to use CPA funds for rental voucher program. Read more!
---
Did you know that 64% of North Shore CDC's housing serves families with children? Learn more about the incredible work of North Shore CDC.
---
3 Boston CDCs (Allston Brighton CDC, Codman Square NDC, Dorchester Bay EDC) were selected to help lead the Partnership to Improve Community Health's (PICH) "Healthy Community Champions," a national initiative to organize and empower residents to create sustainable changes in healthy food and beverage environments, and active transportation throughout the city's neighborhoods. Overall, twelve organizations were selected for this program.
---
Island Housing Trust held its 1st business symposium on March 19th. 21 businesses attended to discuss housing solutions for their employees.
---
Congratulations to Peter Gagliardi, President and CEO of HAP Housing, for being an award recipient at the upcoming Annual Human Relations Award Banquet! The Banquet will be hosted by the National Conference for Community and Justice on June 11, 2015 in Springfield, MA.
---
WWLP recently posted a video and short article featuring Revitalize CDC's Green-N-Fit Neighborhood Rebuild Event on April 25th. Over 1,200 volunteers and 80 sponsors gathered for the event, helping rebuild the Old Hill Neighborhood in Springfield, one block at a time.
---
Franklin County Community Development Corporation announces Nan Parati, owner of the Elmer Store in Ashfield as the latest recipient of the Haas Entrepreneur of the Year Award. Parati will be awarded at the 5th Annual Presentation of the award on May 21st at Shea Theater in Turners Falls.
Attending were Legislative Aide to Senator Chang-Diaz Angela Kim Nhien Vo, and State Representative 5th Suffolk District Evandro C. Carvalho. In addition, Board President Daryl Wright, Director of Economic Development Dan DeSantis, Director of Resource Development Meg Flanigan, COO Michelle Green, Director of Resident Initiative Community Organizing Elias Monteiro, and Director of Finance Chuck McVea were in attendance.
---
Congratulations to Harborlight Community Partner for conducting a great Doughnuts with Delegates session!
Attending were Senator Joan Lovely, Representatives Brad Hill, Jerry Parisella, Leah Cole, Steve Smalley from Senator Tom McGee's office and Barry Pett from Senator Bruce Tarr's. In addition, Harborlight Community Partners were grateful for the strong local representation from Beverly's Mayor Mike Cahill and Planning Director, Aaron Clausen; Fred Mills of the Hamilton Affordable Housing Trust; Josh Anderson of the Wenham Affordable Housing Trust; Karen Sawyer, Peabody's Director of Community Development and Planning; and Housing Advocate and chair of the Gloucester Community Preservation Committee, Stacy Randall.
---
Congratulations to Madison Park DC & Nuestra CDC for conducting a great Doughnuts with Delegates session!
Attending were Senator Sonia Chang-Diaz, Rep. Russell Holmes, and Rep. Byron Rushing, alongwith community members, Madison Park DC and Nuestra CDC staff.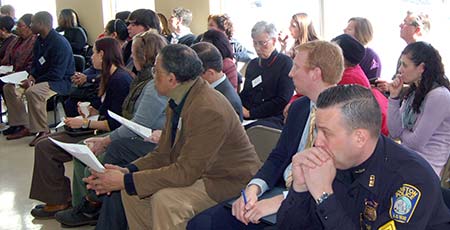 ---
A new Gloucester Crossing Neighborhood-Wide Needs Assessment shows that 70% of respondents felt the community improved in the past 3 years. The community survey will help North Shore CDC's strategies for community impact in the coming year.
---
Congratulations to JPNDC for conducting a great Doughnuts with Delegates session!
Attending were State Senator Sonia Chang-Diaz, State Representative Liz Malia, and Boston City Councilor Matt O'Malley, alongwith community members and JPNDC staff.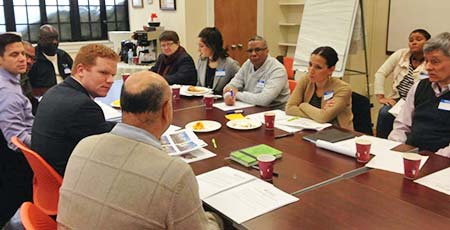 ---
The Boston Housing Authority is asking for $30 million "to revitalize the Whittier Street public housing development in Roxbury." POAH and Madison Park Development Corporation are the co-developers of the project.
---
Congratulations to North Shore CDC for conducting a wonderful Doughnuts with their Delegates session!
Attending where 10 state legislators and city councillors, 8 community members, 10 NSCDC staff and 4 program youth!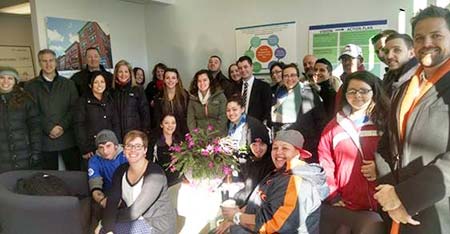 ---
Check out this great video highlighting IBA's new logo, web site and overall graphical identity!
---
Chrystal Kornegay, new undersecretary of the Department of Housing and Community Development, was recently interviewed by the Boston Globe. In her interview, Kornegay stressed that she will use the skills she's gained at UrbanEdge for working to alleviate housing insecurity at the state level.
---
North Shore Community Development Corporation just acquired ten new buildings in the Point neighborhood! These buildings will become 84 new units of housing for the community, expanding their impact to a total of 247 housing units in Salem.
---
Check out this short article highlighting Hilltown CDC and Valley CDC's fundraising through #CITC!
---
Congratulate Susan Davy with MACDC: Susan Davy has just been named the Interim Chief Executive Officer of Urban Edge. She comes to the organization with a background in organizational leadership that numbers over 30 years and will be taking the place of newly appointed Undersecretary for the Department of Housing and Community Development, Chrystal Kornegay.
---
Beverly Johnson, Founder and President of Bevco Associates, has just been named the first female President and Chairwoman of the Board for the Massachusetts Minority Contractors Association.
---
Check out an additional piece by Nuestra CDC's Executive Dirctor, David Price, on the anti-gentrification movement in Boston.
---
Van Paul Le, JD has just been named the interim Executive Director for VietAID, effective January 12, 2015. Van carries many distinguished awards, including the Michael C. Rockefeller Fellowship, which allowed him to work in refugee camps with unaccompanied minors in the Philippines. Van will be replacing Nam Pham, who has been chosen by Governor Charlie Baker to serve the Commonwealth as Assistant Secretary in the Executive Office of Housing and Economic Development.
---
Check out Nuestra CDC's Executive Director's, David Price, piece on gentrification in Shelterforce.
---
Fern Selesnick, Homebuyer Education Coordinator at Valley CDC was recently awarded the 2014 Collaborative Service Award, for maintaining high standards in her homebuyer education courses to the community.
---
A recent story in Latino USA mentions the work of CEDC in Massachusetts for aiding undocumented immigrants in paying their taxes. According to Latino USA, there are approximately 200,000 that may be able to benefit from these services in the upcoming tax season.
---
Dorchester Bay Economic Development Corporation (DBEDC) releases new strategic direction on December 4th to enhance the Innovation Economy.
---
Ground Broken for Patriot Homes in South Boston: Through South Boston CDCs work, veterans will soon a new opportunity for affordable housing in the South Boston neighborhood with the ground breaking of the former City of Boston D6 Police Station. Entitled the "Patriot Homes," these 24 units will primarily provide housing for local U.S. Veterans.
---
WCHR launches Project Homefront: On November 25th, Worchester Community Housing Resources, in collaboration with Bank of America, featured an open house luncheon kickoff for their latest work, Project Homefront. This project works to offer men and women in the armed services with affordable housing for their families. For more information, contact Olivia Cepeda at ocepeda@wchr.org.
---
Congratulations to Hilltown CDC Executive Director Dave Christopolis, who received the Congressman John W. Olver Scholarship, named in honor of former U.S. Representative John W. Olver who served the Massachusetts 1st Congressional District from 1991 to 2012. The scholarship allows Dave to attend a week long intensive NeighborWorks America training, offered annually to professionals whose work advances the community development philosophies embraced by John Olver during his tenure.
---
Congratulations to Gail Latimore, Codman Square DC Executive Director and MACDC Board Chair, and Jeanne Dubois, Executive Director of Dorchester Bay EDC, for their recognition by The Boston Foundation as this year's "Change Makers"
---
Congratulations to Chrystal Kornegay, Executive Director of Urban Edge, and Nam Pham, Executive Director of Viet-AID, for becoming 2015 Barr Fellows!
---
Congratulations Madison Park Development Corporation for the opening of the new Greenville Apartments in Roxbury! #CDCsWORK
---
The Urban Edge and Jamaica Plain NDC were recently mentioned for their work in Egleston Square on CityLine 5's segment on communities. LEARN MORE
---
A great reflection of Main South CDC's work is now being highlighted by WCVB News Channel 5. Check out what they had to say about this #CDCsWORK!
---
Congratulations to JPNDC and IBA for receiving grants from the inaugural round of The Boston Foundation's Latino Legacy Fund
---
The Neighborhood Developers welcomed Federal Reserve Chair Janet Yellen to tour their Connect program on Thursday, October 16th. Check out the article in the Boston Globe.
---
Asian CDC tops off One Greenway! 363 new homes in Boston!
---
This year's "The Big Fix" event in Yarmouth had a huge turnout for only being a 5 year old tradition. With over 225 volunteers this year alone, the event was able to help elderly members of the community with small home repairs in just a few hours. Congratulations to the Housing Assistance Corporation in Cape Cod and their wonderful volunteers for a job well done!
---
Franklin County CDC is now packaging vegetables for local schools for the winter! With the recent start of their IQF Nitrogen Freezing Project, the Food Processing Center is able to freeze and package locally grown vegetables to be used long after the harvest season has passed. More on the project here, and how to attend a training session on starting a similar project.
---
The American Planning Association named Boston's Fields Corner Neighborhood as one of the Top 10 Neighborhoods in the United States. They highlighted MACDC member Viet-AID as one of their reasons for selecting this community.
---
Jamaica Plain NDC helping preserve local businesses - Coverage by WCVB.
---
Allston Brighton helps lead the conversation around student housing in their community. Check out a great Boston Globe article covering their work.
---
Great article in the Boston Globe on Dorchester Bay EDC's partner at the renovated Pearl Meats Factory, Crop Circle Kitchen.
---
Congratulations to Janelle Chan, Executive Director of Asian CDC, for being listed as one of the "40 Under 40" for this year by the Boston Business Journal! Great recognition for a strong leader in the CDC field.
---
Listen to Gubernatorial Candidate Charlie Baker highlight the great work of our member Viet-AID in Fields Corner (Starts at minute 7:00 in this rebroadcast from the recent debate http://www.wbur.org/2014/08/13/gop-governor-debate-video).
---
North Shore CDC just kicked off an $18 million renovation of 77 units across 11 buildings in Salem's Point Neighborhood. It's their largest renovation project yet!
---
VietAID recently announced four finalists in the Freedom Public Art Project competition to develop artwork for Town Field (also known as Doherty-Gibson Park) in Fields Corner. VietAID, in conjunction with the Edward Ingersoll Browne Trust Fund, a public charitable trust administered by the City of Boston and the Boston Art Commission, is commissioning the work to honor the sacrifices made in the name of freedom and to serve as inspiration for the neighborhood's aspirations for freedom from poverty and crime.
The four finalists, selected from a highly competitive pool of 144 artists from 27 states and nine countries, will each be awarded a $2,000 stipend from the Edward Ingersoll Browne Trust Fund to produce concept designs. The artists will share their designs with the community and solicit comments at a public meeting at VietAID on October 20, 2014. The designs will be on display at the Fields Corner Branch Library following this meeting and will be posted online. The winner will be announced on November 7th.
---
In New Bedford, the Community Economic Development Center (CEDC) recently gave local regency and business representatives a tour of Acushnet Avenue, a gateway into the city that also serves as a rich hub for small businesses. CEDC is hoping to use the CITC program to help fund additional improvements to the "Avenue."
---
The MA Division of Banks announced $1.5 million in grants to 11 regional foreclosure prevention centers and 10 organizations involved in first-time homebuyer education. Funding for these grants comes from administrative fees associated with the licensure of mortgage loan originators. This funding resulted from passage of legislation in 2007 that MACDC played a major role in passing, at the onset of the foreclosure crisis.
Twelve MACDC members were among those organizations who received awards:
Allston Brighton CDC
Arlington Community Trabajando, Inc.
Dorchester Bay Economic Development Corporation
HAPHousing
Housing Assistance Corporation
Lawrence Community Works
Neighborhood of Affordable Housing (NOAH)
NeighborWorks Southern Massachusetts
Oak Hill CDC
South Middlesex Opportunity Council
Urban Edge
Valley CDC
---
To combat acres of invasive plants and poison ivy in Hyde Park, Southwest Boston CDC got creative. Student's from the organizaton's Green Team proposed the idea of using goats to "landscape" the wooded areas. Southwest Boston CDC is helping cover the costs of four goats, who will feast on the plants in sections of the area for two months. At the end of this pilot program, the overgrown area will be trimmed down, and the plants that are preventing access to the space will be gone, courtsey of the goats. (For the full story, visit the Boston Magazine website.)
---
SEED Corporation recently closed on four small business loans totaling $1.47 million to Plymouth County businesses (Besthands Construction and Repair in Norton, Coast Automation in Hingham, and Mockingbird Restaurant and Martini Lounge in East Bridgewater). The loans will enable the businesses to start-up, expand and create 20 new jobs. Under various programs, SEED makes loans from $1,000 up to $5.5 million to assist small businesses to grow and create jobs throughout the region.
---
A recent article in the Boston Globe takes a look at Pine Street Inn's bold choices in the fight against chronic homelessness.
---
On July 7th, Governor Patrick announced $83.6 million in funding to create 24 affordable housing projects across the state. Projects and developments sponsored by the following 10 MACDC members were among those who received funding:
Berkshire Housing Development Corporation
Codman Square Neighborhood Development Corporation
HAPHousing
Jamaica Plain Neighborhood Development Corporation
Neighorhood of Affordable Housing (NOAH)
The Neighborhood Developers
NeighborWorks of Southern Massachusetts
Somerville Community Corporation
South Shore Housing Development Corporation
Waterfront Historica Area League (WHALE)
Read the official press release for all the details on each funded project.
---
Learn more about a collaborative project between Southwest Boston CDC and Codman Square CDC: "Will Walsh boot a chance to boost housing in Hyde Park?" - Boston Globe
---
Nuestra CDC is featured in LISC's "Safe Streets, Strong Communities" video, which is part of LISC's 2013 Annual Report. The video, embedded below, highlights how local community development organizations in Boston are working with neighborhood residents and local police to help reduce crime and ensure everyone's safety.
---
On June 20th, The Boston Foundation announced the recipients of its quarterly discretionary grants. Boston LISC and the Somerville Community Corporation (SCC) were among the organizations receiving grants. LISC received a one-year grant to support the Resilient Communities/Resilient Families Entrepreneurship and Small Business Program. SCC received a one-year general operating grant to support its affordable housing efforts.
Both grants were part of The Boston Foundation's larger strategic initatives to: (1) increase neighborhood stability and the production and preservation of affordable housing for vulnerable populations; and (2) promote the career advancement and economic security of low-income individuals. The full announcement of grantees is available on TBF's website.
---
On June 11th, Pine Street Inn celebrated its annual graduation ceremony, recognizing the achievements of nearly 100 men and women who completed job training programs in food services, building maintenance and housekeeping. The ceremony also honored more than 200 men and women who moved into housing during the previous year and 227 people who found employment. Boston Mayor Marty Walsh gave the commencement address, encouraging the graduates not to give up. (Video of Mayor Walsh's remarks and photos from the event are available on Pine Street's website.)
---
On June 13th, HAP Housing celebrated the opening of Olympia Oaks, a new 42-unit affordable housing development in Amherst. Working with town officials and other housing advocates, HAP oversaw the project, which includes eight units for extremely low-income households as well as three units that are accessible for people in wheelchairs and three units for people who are hearing impaired.
Eight units will open to renters in July, with the others being rented out as they are completed through the fall. Several state and federal officials were on hand for the ribbon cutting, including U.S. Representative James McGovern, who spoke at the event.
---
Last week, the City of Salem, working in collaboration with local community development organizations, won an additional $5,000 as part of The Working Cities Challenge. Hosted by the Federal Reserve Bank of Boston, the event introduced participating organizations and cities to funders interested in investing in projects and programs within the Commonwealth. The Boston Fed event allowed all gateway cities to pitch to investors, with the best three pitches winning and receiving $5K each. Salem, along with the two other winning cities (Chelsea and Fitchburg), beat out 15 other cities for the grants.
Salem's team, which included the Point Neighborhood Association, the North Shore Community Development Coalition, the North Shore Workforce Investment Board, and Salem State University, will use their grant to support grassroots community engagement, particularly in helping reduce disparities of key socioeconomic characteristics (such as unemployment, poverty, and income) between the Point neighborhood and the City of Salem as a whole.
For more information on The Working Cities Challenge, visit its website, http://www.bostonfed.org/workingcities/.
---
On Friday, June 13, 2014, Lawrence CommunityWorks (LCW) will celebrate the opening of Casa di Anna, an 18-unit affordable housing complex located in Lawrence. The development is named for Anna LoPizzo, a young woman who died during the Bread and Roses Strike of 1912.
LCW staff and board will be joined by Congresswoman Niki Tsongas, Mayor Daniel Rivera, representatives from MA DHCD, MHIC, NeighborWorks America, the MassHousing Partnerhsip and members of the MA state delegation for the ribbon-cutting ceremony. More information about Casa di Anna and all of LCW's work can be found on its website.
---
Springfield Neighborhood Housing Services welcomed Aaron Gornstein, Undersecretary of Department of Housing and Community Development (DHCD), for an announcement on new opportunities and support for homeownership in Springfield. The event, held on June 11, 2014, included the presentation of grant awards to Springfield NHS and HAP Housing. Springfield NHS will use its grant to build affordable homeownership units in an area of town affected by the June 2011 tornado. Meanwhile, HAP will use its grant to offer first-time homebuyer classes and counseling.
The Massachusetts Office of Consumer Affairs & Business Regulation live-tweeted the event, and pictures are available on its Twitter feed.
---
DHCD Undersecretary Aaron Gornstein traveled to another part of the Commonwealth on June 9th, to tour some of the housing properties developed by the Fitchburg Housing Authority and the Leominster Housing Authority (LHA). Fitchburg Mayor Lisa Wong and LHA Gene Capoccia were also in attendance for the tour. Two short videos of Mr. Capoccia's presentation can be viewed here.
---
On Monday, June 9th, Somerville Community Corporation (SCC) held a ribbon-cutting ceremony for the St. Polycarp Village, an 84-unit affordable rental housing development in Somerville. The ceremony was kicked off by Housing and Community Development Undersecretary Aaron Gornstein; also in attendence were Somerville Mayor Joe Curtatone, U.S. Congressman Mike Capuano, HUD Regional Administrator Barbara Fields, and Mass Housing Executive Director Tom Gleason.
Photos from the event are available on HUD New England's Twitter feed and on SCC's Facebook page.
---
Neighborhood of Affordable Housing (NOAH) was one of the 2014 Greenovate Boston Award winners. NOAH was one of 11 organizations honored by Mayor Walsh and the City of Boston at the Greenovate Community Summit on May 31st. The winners were selected for their impressive sustainability achievements and commitment to greenovating Boston. NOAH's Community Climate Preparedness project raised awareness of storm surge and climate vulnerability from 12% to 60% in East Boston. Congratulations, NOAH!
---
In its most recent e-newsletter, the Community Development Partnership did an excellent job of highlighting the CITC program, its benefits and how you can get involved. Thanks, CDP!
---
In Great Barrington, the Community Development Corporation of South Berkshire is using a revolutionary cleanup technique to neutralize polluted land for future development.
---
Three MACDC members – Harborlight Community Partners, Homeowners Rehab and Urban Edge – will receive "Excellence in Community Development" awards at the Massachusetts Housing Investment Corporation's annual meeting, on Monday, June 2, 2014.
---
The U.S. Small Business Association recently named Maria Gooch-Smith, executive director of the South Eastern Economic Development Corporation (SEED), the 2014 Financial Services Champion for Massachusetts and New England. This award is presented annually to individuals who increase access to financial services for small businesses, by providing financing and advocating on behalf of small businesses.
---
Urban Edge recently celebrated its 40th anniversary and the debut of its "Lift Me Up" music video.
---
Check out North Shore CDC's 2013 Community Impact Report. It's infographically awesome!
---
Congratulations to Asian CDC and the New Boston Fund for breaking ground on the One Greenway project, which is a 21 story tower with 363 units of housing.
---
Check out a great article in Boston Magazine on how the former Pearl Meats Factory is tranforming into a hub of culinary entrepreneurship.
---
In March, John Waite, the Executive Director of Franklin County CDC, attended the National Food Hub Conference in Raleigh, NC as a featured presenter. The Franklin County CDC is viewed nationally as a leader in sustainable food and farm circles and the Western MA Food Processing Center is regarded as a model food hub. At the conference John spoke on two panels and you can hear them here. The first addressed how Food Hubs can add-value to local produce through processing, and the other focused on freezing local produce for schools and institutions as a way to extend the season for both farmers and eaters.
---
Congratulations to Harborlight Community Partners for being named Nonprofit of the Year by Greater Beverly Chamber of Commerce.
---
Congratulations to Mission Hill NHS for breaking ground on Saturday, March 29th on a 40 unit affordable housing project for the elderly. The project will be LEED Silver certifiable.
---
North Shore CDC to Offer Home Buying Classes in Spanish: Since 2013, North Shore CDC's Homebuying 101 course have taught over 100 North Shore residents the in's and out's of the home ownership process in Salem, Peabody, and Beverly. This May, North Shore CDC will be offering the Homebuying 101 course in Spanish in Salem's Point Neighborhood.
---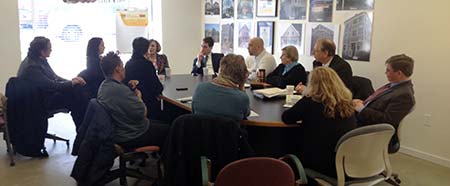 On March 7, Worcester Common Ground hosted a Doughnuts with Delegates meeting with Main South CDC and Worcester Community Housing Resources; they met with Senator Harriet Chandler, Representative Daniel Donahue and Representative Mary Keefe.
---
"Entrepreneurs float ideas for Dudley Square business incubator" - Bay State Banner. Highlights the work and efforts of Nuestra CDC and Dorchester Bay EDC.
---
Congratulations to the MIDAS Collaborative for being selected as a CFED Learning Cluster Partipant. MIDAS is just 1 of 6 organizations selected out of a 114 applicants!
---
Nuestra CDC named a finalist for ArtPlace America Creative Placemaking Grant.
---
Check out Common Capital's CEO's, Chris Sikes, latest post: Take It Back!
---
Congratulations to North Shore CDC for hosting a great Doughnuts with Your Delegates meeting!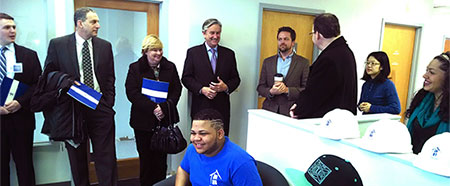 ---
"When I look at Lawrence, I don't see it the same way other people from outside the city do or others who have given up," said Jessica Andors, executive director of LCW. "I see it as a very vibrant city with people who have overcome tremendous odds to come to a city rich in history, infrastructure and a fighting spirit. You don't turn your back on those assets."
Great article on Lawrence CommunityWorks' in the Eagle Tribune.
---
Congratulations to Asian CDC for hosting a great Doughnuts with Your Delegates meeting!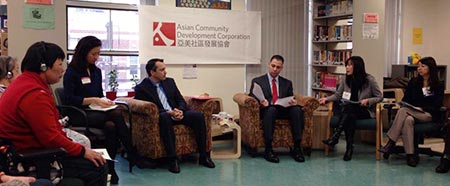 ---
Congratulations to NeighborWorks of Southern Mass for hosting a great Doughnuts with Your Delegates meeting!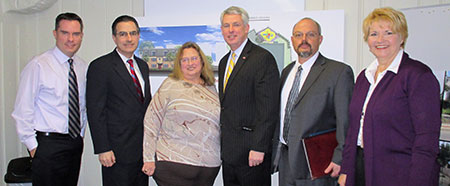 ---
Congratulations to Jamaica Plain NDC for hosting a great Doughnuts with Your Delegates meeting!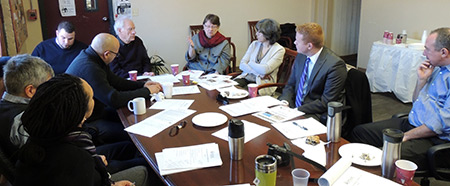 ---
Congratulations to Nuestra CDC and Madison Park Development Corporation for hosting a great Doughnuts with Your Delegates meeting!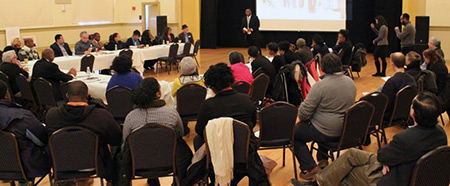 ---
Congratulations to MetroWest CDC for hosting a great Doughnuts with Your Delegates meeting!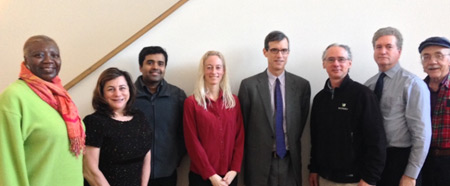 ---
Great article on the work Dorchester Bay EDC is accomplishing hiring a diversified workforce for their construction projects along Quincy Street in Dorchester with help from another MACDC member, Quincy Geneva CDC.
North Shore CDC and River House have a great Polar Plunge!
Check out MACDC's President and Community Development Partnership's Executive Director, Jay Coburn, on WOMR's The Place Matters for a great conversation on the Community Investement Tax Credit
Congratulations to NeighborWorks Southern Mass for winning the NCDA 2014 Audrey Nelson Award for their Winter Gardens project!
Great article in The Boston Globe on Dorchester Bay EDC's work at the former Pearl Meats factory: "Renovations and dreams on Quincy Street"
Community Development Partnership announced on January 8th that their revolving loan fund to help local Cape Cod fisherman received an additional $250,000 from the Commonwealth of Massachusetts to expand the program. With the expanded opportunities, commercial fishermen in the groundfish industry will have access to capital needed to repair vessels, purchase new gear, lease Groundfish quota and refinance fisheries-related debt. The $250,000 in funding for the loans is from the Commonwealth's Commercial Fisheries Revolving Loan Fund via a federal grant from the National Marine Fisheries Service.
Congratulations to Madison Park DC and Tropical Foods for completing financing on a major redevelopment project.
Check out this great map of Dorchester Bay Economic Development Corporation's service area highlighting some of the great work they've accomplished.
Congratulations to Valley CDC for their recent $100,000 from TD Bank: http://news.westernmassedc.com/articles/1511040/td-charitable-foundation-awards-100-000-to-parsons/
Congratulations to Philippe Jordi, Executive Director of Island Housing Trust, for winning a Community Preservation Coalition Kuehn Community Preservation Award.
Great article on Nuestra's Executive Director, David Price, in Harvard Magazine.
Check out a great article and an editorial about the work the Community Economic Development Center is accomplishing in New Bedford: Community economic group reaches out to 'The Avenue'; Our View: Immigrant entrepreneurs move the economy.
Check out this video by Valley CDC; it's a compelling way to get people engaged with what they're doing.
Congratulations to Asian CDC and New Boston Fund, Inc. for closing on a $170 million in financing and a ground lease for One Greenway. This project will product 362 units in new housing in Chinatown.
Congratulations to the following MACDC members who received funding through the latest DHCD round of funding:
- Father Bill's & MainSpring
- Just-A-Start
- Homeowners Rehab Inc.
- The Neighborhood Developers
- Housing Assistance Corporation
- Lawrence CommunityWorks
- Coalition for a Better Acre
- NeigborWorks South Mass
- Common Ground Development Corporation, a subsidiary of Community Teamwork Inc.
Congratulations to Viet-Aid as they're "honored for work improving Fields Corner."
Congratulations to Worcester Common Ground for completing the renovations of 7 Bellevue Street in Worcester: http://www.telegram.com/article/20131103/NEWS/311039988/1237
2013 Lifetime Achievement Award Winner Inspires Crowd with His Personal Story: READ MORE about MACDC member Charles Rucks, who was awarded the 2013 Lifetime Achievement Award by Massachusetts Nonprofit Network.
Nuestra Comunidad and the Boston Police Department are excited to announce that they are being recognized with a national MetLife Foundation Community-Police Partnership Award for greatly improving the safety and vitality of the Blue Hill Avenue Corridor and the surrounding community. http://nuestracdc.org/news-in-english/161-nuestra-comunidad-receives-national-community-policing-award
Congratulations to Dorchester Bay Economic Development Corporation for breaking ground on the Quincy Street Corridor redevelopment project. Articles: http://www.bankerandtradesman.com/news157086.html and http://www.bizjournals.com/boston/news/2013/10/23/hud-secretary-celebrates-dot-project.html?ana=e_bost_real&s=newsletter&ed=2013-10-24
Welcome Carol Ridge Martinez as Allston Brighton CDCs new Executive Director! Ms. Martinez brings more than 25 years of experience in community development to the organization. Most recently, she has been the Assistant Director of the Department of Planning and Development for the City of Chelsea, MA. She has also served as the President of the Board of Directors of The Neighborhood Developers, a Chelsea-based organization that is one of the region's most respected community development corporations. She has also served as Director of Housing in Chelsea and as a Housing Finance Manager for Boston's Department of Neighborhood Development. CLICK HERE to read more.
Congratulations to Steve Teasdale, Executive Director of Main South CDC, for being honored by Clark University for all the incredible work he's and his colleagues at Main South CDC have accomplished in the community. CLICK HERE to read the article.
Cambridge Is A Model For Affordable Housing Initiatives: Congratulations to HRI and Just-A-Start for their continued hard work and success. CLICK HERE for the Banker and Tradesman article.
Congratulations to SEED and Quaboag Valley Business Assistance Corporation for receiving CDFI grants.
"After Great Recession, Olmsted Green Project Gets New Life" - Banker and Tradesman highlight homeownership in Dorchester and the work of Lena Park CDC.
Marc Dohan, Executive Director of Twin Cities CDC, is a MassINC Gateway Cities Innovator for 2013!
Congratulations to Charles Rucks, Executive Director of Springfield NHS, for receiving the MNN's Lifetime Achievement Award. The award will be presented at the conference, titled Solutions 2013: The Intersection of People and Technology, on Tuesday, October 29 at the Sheraton Framingham.
CLICK HERE to read/listen NPR's piece on Madison Park Development Corporation's self-defense program for women, held this past summer.
Check out this great article about Nuestra CDC and the arts in Boston: CLICK HERE to go to the Boston Globe article from August 29th, 2013.
Two CDCS, Quaboag Valley CDC and Twin Cities CDC, and the Mass Growth Capital Corporation (MGCC) received great press on the GoLocalWorcester website in the article "Central Mass Businesses Thrive with State Grants + Loans." CLICK HERE to read the article.