Welcome to the MACDC Racial Equity Pledge webpage! The pledge was launched at our Annual Meeting on November 18, 2021. Please join us by having your organization adopt and sign the racial equity pledge!
Here you will find the following: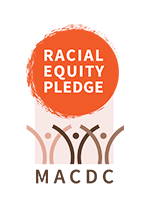 Step by Step - Adopting and Signing the Racial Equity Pledge
Step 1: Bring the Racial Equity Pledge to the board. Note: The pledge document is available on this webpage.
Step 2: Show the Racial Equity Pledge process video.
Step 3: Present the pledge to the board using the sample agenda as a guide. Note: The pledge is available in a PowerPoint format.
Step 4: Call for a board vote. Discuss and decide action steps. Note: This process may take two meetings.
Step 5: Report back to Shirronda Almeida, Director of MKI at Shirrondaa@macdc.org and/or Tiana Lawrence, Program Associate at the MKI at tianal@macdc.org. Once MACDC is notified about the pledge, we will send the official Racial Equity Pledge logo for your website.
Thank You to Our Pledge Adoptees!
Allston Brighton CDC
Asian CDC
Coalition for a Better Acre
Codman Square NDC
Community Development Partnership
Community Teamwork
Dorchester Bay EDC
Fenway CDC
Groundwork Lawrence
Harborlight Community Partners
Hilltown CDC
Inquilinos Boricuas en Acción (IBA)
Jamaica Plain NDC
MACDC
Main South CDC
Metro Housing Boston
Metro West Collaborative Development
NeighborWorks Housing Solutions
NewVue Communities
Nuestra CDC
Opportunity Communities
Pittsfield Economic Revitalization Corporation (PERC)
Revitalize CDC
Somerville Community Corporation
South Middlesex Opportunity Council (SMOC)
The Neighborhood Developers
Urban Edge
Valley CDC
WATCH CDC
Worcester Common Ground