Somerville Community Corporation's Staff & Board Undergo Racial Equity Training as a First Step after Signing on to the MACDC Racial Equity Pledge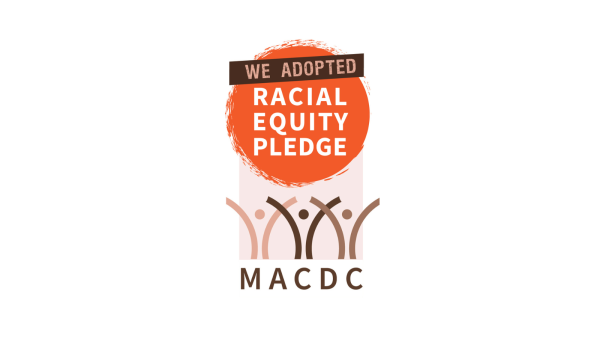 July 2022
Mila Roemer
At its Annual Meeting in November 2021, the Massachusetts Association of Community Development Corporations committed to a Racial Equity Pledge, upholding their dedication to making their organization a more diverse, equitable, and inclusive place. As of June 2022, 28 member organizations have signed on to the pledge as well. The pledge stemmed from a push for more racial equity from the CDC movement in the summer of 2020. Organizations who have adopted the pledge are signing on to embrace four key values:
committing to learning and addressing the different levels of racism so they can take action to dismantle those inequities;
their staff should be diverse, equitable, inclusive, and representative of the communities they serve;
their board should be diverse, equitable, inclusive, and representative of the communities they serve; and
authentic representation in programming/services.
Previously interviewed were staff from Harborlight Community Partners and Community Development Partnership about their action plan to advance racial equity. Today, I talked to Gonzalo Puigbo, CEO of Somerville Community Corporation. SCC supports low- and moderate- income residents of Somerville in achieving economic sustainability and civic participation through work such as real estate development and financial education.
Puigbo says that the areas he feels SCC needs to address first are "board composition and our staffing... [they're] not very diverse... We had a nominating process [for the board] in January of this year, and we identified some people in the community that could help diversify our board, not just in composition, but also through lived experiences. I think lived experiences are key, identifying people who have similar lived experiences as our tenants."
Beyond working on board and staff representation, SCC "train[ed] some board members around racial equity, and the Mel King Institute provided some initial training... We wanted to incorporate those ideas from the get go but we just didn't have the tools or the guidance to do that, so MKI provided some of that guidance, and then the Racial Equity Pledge came up and it provided a blueprint for what we needed to do," said Puigbo
A specific racial equity issue SCC has encountered in their work is addressing conversations surrounding policing. "Because of what happened with George Floyd two years ago, it was really important to address how tenants felt about policing security in our buildings. We have roughly about 20-30 buildings, and some of them are in locations where our tenants prefer to have police, but there are other locations where tenants prefer to have less policing, so navigating that as an organization, in establishing an understanding of making sure we take care of the needs of our tenants, and having a dialogue with the police and other security, making sure they know policing is important, but it's also important that we address health, human services, and other issues that could potentially limit police exposure and increase public services. We're still struggling with that conversation," said Puigbo, explaining the complications and complexities of the issue.
Puigbo says looking into the future, SCC's racial equity plans are to "finalize the training with the racial equity pledge, and once we move from that direction we want to start incorporating Lunch and Learns with all of our staff members, we've already started a dialogue in our meetings that this is going to be important moving forward, and to incorporate the staff members into our decision process, because a selective team, have been a part of this ongoing training, but we want to expose our staff so that the decisions we make are always within a racial equity lens."
MACDC hosts meetings for both members who have already adopted the pledge and for those who are considering it. To support members in their implementation, we also offer member-only workshop opportunities through the Mel King Institute. For more information and a full list of adoptees, visit the Racial Equity Webpage.
Mila Roemer is a student at Northeastern University and MACDC's Communications Intern.