In early 2012, the Somerville Community Corporation (SCC) purchased a vacant and structurally deficient brick building from the Boys and Girls Clubs of Middlesex County located just outside the heart of bustling and "up and coming" Union Square, Somerville. In a part of the city where property values had already skyrocketed nearly 150% since 2005 and two new planned Green Line stations promise to significantly boost housing demand, this was a unique opportunity to preserve affordability for existing Somerville residents who might otherwise find themselves priced out of the city. With a 40+ year track record of building and supporting affordable housing for working families and vulnerable individuals in Somerville, SCC was well positioned to seize this opportunity and to create a project that would benefit not only its tenants but its entire surrounding community.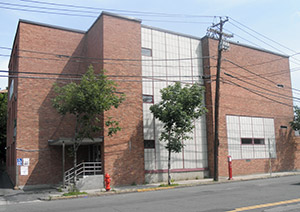 Somerville Community Corporation spent its first few months as new owners of the property at 181 Washington Street reaching out to neighbors through community meetings and door-to-door conversations. The first community meeting- held at the building itself- was an important time not for SCC to unveil any plans for the site, but for residents to get to know the organization and understand their commitment to the local community. A second community meeting- held only after a sufficient number of neighbors had been reached directly- was held a few months later and attracted double the attendance of the first (over 80 people). Four additional public meetings were held by SCC before any plans were submitted to the Planning Board and each was preceded by flyers, doorknocking, mailings, and email invitations to neighbors.
While many in the community applauded the SCC's initial proposal to build a mixed-use, transit-oriented development with ground-floor commercial and 40 energy efficient, affordable rental apartments on the abandoned site, a vocal minority expressed their opposition. The proposal both conformed to zoning and responded to the City's recently approved Comprehensive Plan (aka "SomerVision", which calls for 1,200 new units of permanently affordable homes by 2030, and increased height and density on key corridors, including Washington Street), but these residents had a different vision for the site. They proceeded to form an active opposition group called "Union Square Rising".
In the face of opposition, a growing group of neighborhood supporters as well as a broader group of residents who felt passionate about the need for affordable housing in Union Square also became actively involved to demonstrate the need and desire for this project, and shared their enthusiasm under the newly developed "Everyone's Somerville" slogan, embracing the idea that Somerville should be a community in which people of all incomes and backgrounds can afford to live. This became the basis for a new website, stickers, and posters that businesses and residents placed in their windows.
The "Everyone's Somerville" message was perhaps best conveyed at a rally in July, 2012, in Union Square where a group of Union Square neighbors who reflected Somerville's great diversity each held a letter to spell out the slogan. Signs were hung in trees around the square to illustrate the dire need for affordable housing and to expose the human toll of displacement by gentrification. Over 50 people attended what resulted in a very positive, upbeat meeting to celebrate this opportunity. This positive momentum continued throughout the year with door knocking, performance of skits, and standing out with banners and signs before important meetings. Meanwhile, the vocal minority of opponents captured the attention of the media and other residents by misrepresenting the nature of the project by disseminating false information, claiming the mantle of "neighbors", and developing their own tactics to stop the proposal in its tracks.
In early 2013, SCC's proposal took a new turn through an innovative partnership with developers at Cathartes Private Investments who proposed to redevelop the neighboring site at 197 Washington Street- currently a working funeral home. This unique public-private partnership suddenly enabled both developers to make a greater investment in the neighborhood than either could do alone and to create a seamlessly designed mix of retail and housing for people of all incomes at the two sites. Neighbors were again invited to provide input on the public space aspects of the new joint-project at a Saturday afternoon design workshop in February, 2013 and many of those suggestions were integrated into the design plans unveiled in the Spring.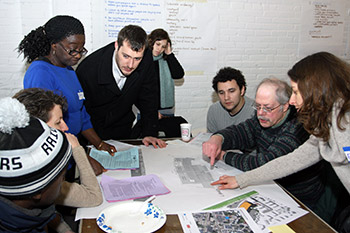 Opposition from some neighbors continued through the remainder of the public meetings and into the Planning Board hearing in June. Many were concerned about parking and traffic, building height (disruption of views), and overall density and scale of the project. As usual, SCC continued its positive messaging about this opportunity to support "Everyone's Somerville" and provide a new, thriving gateway to Union Square. Supporters again rallied behind the letters spelling out the slogan and unveiled a string of over 100 signed postcards
supporting the SCC/Cathartes project before the Planning Board
in June
.
After three Planning Board meetings (where supporters consistently outnumbered opponents by 3:1), an aggressive media campaign (nearly a dozen letters were featured in local papers and blogs and staff worked closely with reporters to keep them engaged), and over 150 supportive comments submitted for public record, and a revised design proposal that reduced the total height and number of units, the Somerville Planning Board voted 4-1 in favor of granting a permit for the project to move forward. SCC was invited to apply for State funding this past summer, and will request 9% low income housing tax credits (LIHTC), project based Section 8 vouchers, and funding from various other programs to bring the project to fruition. Approximately $1.6 million has been committed to this project in local, state, and federal funds, and the balance of project costs will be covered through private loans. CEDAC has already loaned funds to the project for acquisition and predevelopment costs.

SCC is deeply grateful for the unwavering support that our community and allies have shown over these last few months (and even years!) for this crucial opportunity to provide new affordable homes for families of all incomes in a rapidly gentrifying part of Somerville. As the permitting process moves forward, SCC will continue to uphold a place that is truly everyone's Somerville.
For more information about this project, check out www.everyonessomerville.org! You can also find SCC on Facebook and Twitter.