Secretary Kennealy and Undersecretary Chan Visit MACDC Members' Affordable Housing Projects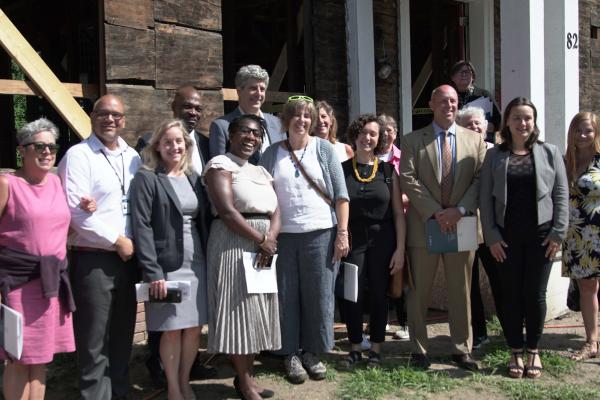 August 2019
Nadine Sanchara
Secretary Kennealy on a visit to Valley Community Development's Sergeant House, a 31-unit supportive housing development in Northampton
MACDC would like to thank Secretary Mike Kennealy, and Undersecretary for Housing and Community Development, Janelle Chan, for taking the time to visit affordable housing projects across Massachusetts.
On August 6, they will be concluding a three-week long tour of 28 affordable housing projects. We are thrilled that they visited the real estate development projects of five MACDC members:
2Life Communities: The 132 Chestnut Hill Avenue project in Brighton boasts 61 units of affordable senior housing.
B'nai B'rith: A vacant elementary school in Swampscott is being redeveloped into affordable housing units for seniors.
B'nai B'rith: Phase 2 of The Coolidge project in Sudbury is currently in development and, when concluded, will add 56 units of affordable housing for seniors.
Housing Corporation of Arlington: The Downing Square project in Arlington spans two sites with a total of 48 units, including 16 deeply affordable, five units for homeless tenants, and a space for a food pantry.
Valley CDC: The Sergeant House Expansion project in Northampton consists of the renovation of 15 Single Room Occupancy (SRO) units, and the construction of 16 new SRO units.
Valley CDC: The Lumber Yard project in Northampton is redeveloping the former Northampton Lumber Company into 55 units of family rental housing and commercial space.
Way Finders: The Live 155 project in Northampton is a 70-unit transit-oriented development, 47 of these units being affordable housing, with access to support services for tenants.