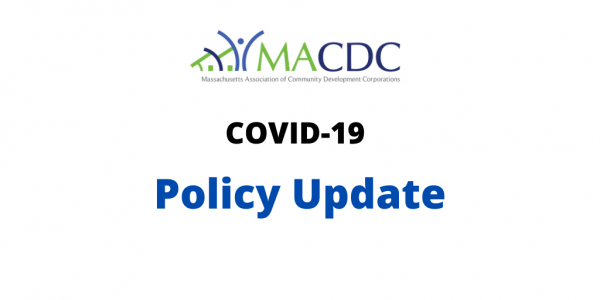 On March 23, 2020, MACDC issued a set of initial policy recommendations designed to mitigate the economic fallout from the COVID-19 crisis. Our recommendations focused on helping tenants and homeowners remain safely housed now and in the future, helping small business owners survive the shutdown of the economy, helping people who are out of work receive adequate unemployment insurance, including those who are (or were) self-employed, receive sufficient unemployment coverage, and ensuring the affordable housing system remains financially capable of providing safe housing to its current residents while continuing to build the desperately needed affordable housing in the pipeline. Read our full initial policy recommendations.
Since issuing our recommendations, we have seen some positive developments at the local, state, and Federal level that advance our recommendations:
State nears enactment of an Eviction and Foreclosure Moratorium
On Thursday, April 2, the House of Representatives passed a strong eviction and foreclosure moratorium bill that would ensure:
Landlords are prohibited from terminating residential or commercial tenancies until 30 days after the COVID-19 emergency declaration ends; this includes notices requesting or demanding that the tenant vacate the premises;
There is an exception for "emergency cause" evictions where there is criminal activity or lease violations that are detrimental to the health or safety of others;
Pending eviction cases are frozen, except those under the exception, with a pause both in court and in enforcement of eviction orders by sheriffs;
Similarly, there is a moratorium on foreclosures until 30 days after the COVID-19 emergency declaration ends;
Landlords may not charge a late fee—nor provide negative information to a consumer reporting agency relating to non-payment-- if a tenant provides notice and documentation that the non-payment was because of financial impact related to COVID-19.
MACDC supports the House bill and urges the Senate to adopt a similar or identical bill quickly, so legislation can be signed into law as soon as possible.
Governor Baker announces $5 million in new rent relief funding
In response to the COVID-19 pandemic, the Baker-Polito Administration has announced steps to ensure housing stability for vulnerable populations, including a new $5 million special fund under the Residential Assistance for Families in Transition program for eligible households who may face eviction, foreclosure, loss of utilities, and other housing emergencies. Read more about the RAFT program here.
Funding for this program has been high on MACDC's advocacy agenda. While we are grateful for this $5 million, we believe there is need for much more. MACDC is advocating for at least $50 million in emergency funding and probably more in FY 21.
City of Boston Rent Relief Fund
Boston Mayor Marty Walsh on Thursday announced a $3 million Rent Relief Fund to assist Bostonians who are at risk of losing their rental housing due to the COVID-19 pandemic. The funds will help income-eligible tenants achieve housing stability by providing direct financial relief to assist with rental payments. Applications to the Rental Relief Fund will be available on Monday, April 6th. Read more here.
In MACDC's initial policy recommendations in response to the public health and economic crisis, we called on local, state, and federal policymakers to adopt emergency efforts to ensure housing stability during this crisis. Thank you to Mayor Walsh for putting this much needed resource in place.
Governor Baker and Massachusetts Growth Capital Corporation deploy $20 million in emergency loans to small businesses
The Massachusetts Growth Capital Corporation first announced $10 million in loans and subsequently offered another $10 million in loans to small businesses impacted by the COVID-19 crisis. This program was designed to be a bridge to federal loans now being made available under the CARES Act through the SBA.
CDBG Funding is Providing Emergency Grants to Small Businesses
MACDC is pleased that more and more cities are launching emergency grant programs for small businesses. Worcester, Fitchburg, Cambridge, and now Boston have announced programs using Federal CDBG money to assist businesses that are not able to take on new loans. We are advocating for more cities to do the same and for DHCD to use its CDBG money to offer similar grants in smaller towns and rural communities. With significant new CDBG funding included in the Federal CARES Act, there is an opportunity to help more businesses across the state.
Federal CARES Act provides important relief but falls short of what's needed
The CARES Act included important provisions that respond to our recommendations, but it has left gaps that must be addressed in subsequent Federal Legislation:
The $600 weekly boost in unemployment insurance will help millions of people across the state and country. We were also very happy to see this coverage extended to self-employed people and independent contractors, one of the core recommendations in our policy recommendations;
The Payroll Protection Program Loan offers forgivable loans to small businesses and nonprofits, but lack of criteria, priorities, and the chaotic roll out will likely mean that smaller businesses, nonprofits, and those facing the most challenges are unlikely to receive their fair share of the program. With $350 billion available nationally and funds being deployed on a first come first served basis, many businesses may get shut out of the program and those are likely to be smaller, underserved businesses from low-income, immigrant, and communities of color. Moreover, the program fails to drive dollars to those who most need it – businesses and organizations that have been ordered shut completely due to the crisis. Indeed, the program is much better suited to businesses that are experiencing a modest reduction in revenue (or even just facing "uncertainty") who can reasonably retain their workforce. Going forward, this program will need more money and better targeting to ensure a more equitable outcome.
The CARES Act provides $12 billion of critical funding for housing and community development, but more will be needed to deal with the looming crisis in the Low Income Housing Tax Credit Program. Congress needs to extend deadlines in the program and provide funding to fill the growing financial gaps in projects facing delays in construction and lease up.
What Comes Next?
We recognize that our state and local leaders are facing an unprecedented public health emergency that is consuming nearly all their time and energy. We are grateful for the leadership we see from Governor Baker, Mayor Walsh, and other local and state leaders across the state. Caring for the sick, flattening the curve and slowing the spread of this disease must be our number one priority. The Community Development Movement is doing its part by helping our residents stay safe, delivering food to those in need, reaching out to residents who may need assistance, or simply making a friendly call.
While we all work to stem the health crisis, the economic crisis looms larger every day – especially for vulnerable and marginalized populations. Now that we see what the CARES Act will and will not do, it is imperative that we take bolder and swifter action at the state and local level, while we also fight for another round of Federal Relief Legislation. We urge the legislature and the Governor to immediately begin working on an additional Economic Relief and Recovery Package that meets the magnitude of this crisis. We also recommend that the Baker Administration create a Covid-19 Small Business Response Task Force, to coordinate efforts to help small businesses survive the immediate public health crisis and recover during the longer economic crisis.
The need for active and vocal advocacy has never been greater. We hope you will join with us in that effort, including on April 28 when MACDC will hold its first-ever (and we hope last) Virtual Lobby Day. Stay tuned for more details!