Leveraging Arts and Cultural Programming to advance Racial Equity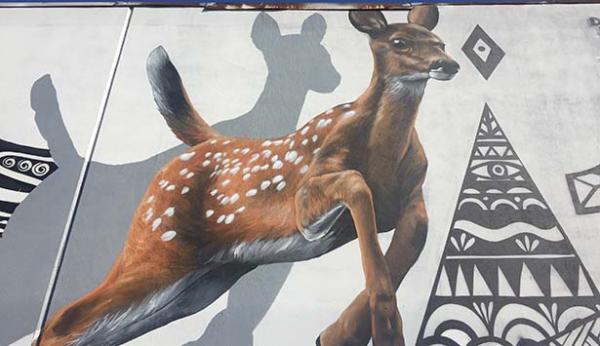 October 2018
Joe Kriesberg
Reflections of a Learning Journey to Seattle by Joe Kriesberg
Last week, I had a special opportunity to participate in a Learning Journey to Seattle, Washington to study their efforts to ensure that people of color have full access to arts and cultural opportunities and to leverage the power of human creativity to drive racial equity. It was an inspiring and educational trip!
The "Journey" was organized by the Metropolitan Area Planning Council (MAPC) with support from the Barr Foundation and brought 25 civic, government and community leaders to the Pacific Northwest for two action-packed days. The diverse delegation included the Mayors of Lynn, Salem and Beverly; two state senators; two state representatives; a Boston City Councilor; local officials from suburban and rural communities; and nonprofit leaders from groups like MACDC and MASSCreative.
Our visit began at the Wing Luke Museum with welcoming remarks from Ken Workman, the great, great, great, great grandson of Chief Seattle. He reminded us about the people who were here for centuries and whose culture was devastated (but not destroyed) by Europeans. We then heard from city and state leaders about their expansive efforts to ensure that children of color have equal access to a full range of cultural and creative programming throughout their k-12 education, both during the school day and beyond. We learned about an ambitious effort to inventory every cultural space in the city and to create a "dating app" that would allow any "creative" to find space to pursue their craft. The City and County have innovative funding streams to support these efforts, including a five percent levy on all for-profit entertainment venues (sadly, male professional sports are exempted; a mistake we should not make if we seek to replicate this model in Massachusetts!). We toured an incredibly ambitious public art project that includes nearly 60 massive murals along a rail corridor south of downtown. And all of this was on the first day.
On day two, we toured the wonderfully renovated historic Washington Hall where a 17-year-old Jimi Hendrix preformed publicly for the first time and now is home to three community-based organizations that promote the arts. The Hall is in an historically African American community that has been significantly gentrified, so the programming seeks to affirm and support the remaining African American community and to honor the history of the neighborhood. Seattle is growing even faster than Boston; it is a day-to-day fight to slow displacement, preserve neighborhoods, and retain the historic and cultural assets that make the city special. Arts and culture are both a potential victim of this process and a tool for fighting back.
Our last visit was with an amazing program called Creative Justice that uses the arts to engage and support court-involved youth. While their program is having great success with young people, that is not their only mission. We were told that the goal of Creative Justice is not to change young people, but to change the criminal justice system!
A few lessons really resonated for me. First, it was clear how much Seattle values the arts for their intrinsic value. They don't seek to justify investment in the arts solely because of the jobs, economic impacts, and reduced high school dropout rates, although they certainly achieve those results. Arts and culture are intrinsic to human experience and everyone should have access to it everywhere.
It was also hard not to be inspired by the commitment to racial equity. What stood out for me was the fact that they were undeterred by the complexity and uncertainly about what precisely racial equity might mean in different contexts. One speaker noted that racial equity has never existed in the history of the world – just like a piece of art, or music that has not yet been produced. He suggested that we view this work as an act of creativity, where we first envision something and then we create it. Like any creative work, there are no hard definitions, no defined pathways, no absolute right answers, and plenty of trial and error. We were told to "think big, start small, and go fast" even if we don't know exactly where we were going. This is something for me and MACDC to think about as we embark to deepen our own commitment to racial equity.
As if the program itself did not teach me enough about the fight to promote the arts in Seattle, I continued to learn when I was in my Lyft ride going to my sister-in-law's house (yes, I also had family to visit!). My driver was a 50+ year old man who plays in three rock bands and drives Lyft to help pay the bills. He had just gone to his first City Council hearing ever to protest the demolition of an historic music hall, which might be replaced with a 44-story condominium development. Seattle needs more housing desperately, but at what cost? My driver told me that he was a nervous wreck as he waited to testify at a public hearing for the first time in his life. But he was pleased with himself for speaking up. He's hopeful the Hall will be saved, but who knows? There are law suits and political battles to come. Either way, he and others are raising their voices and I'm confident that the creative community in Seattle is here to stay!
As I write this essay on my flight home to Boston, I am still thinking about how this work ultimately fits within MACDC's agenda and what we can contribute to the effort. How can we leverage the power of the arts to advance our goals for community voice and racial equity? How can arts and culture be part of our efforts to address displacement or promote neighborhood revitalization? I welcome your thoughts as my learning journey continues.