Joe's Summer Sabbatical
September 2019
Joe Kriesberg
Thanks to the generosity and support of the MACDC board and staff, I was able to take a two-month summer sabbatical this year – my first full summer vacation in a very long time. I was able to spend lots of time with various family members, read books, travel, and enjoy countless hours of biking, swimming and hiking! For those wondering "what did you do all summer" I figured that I would share some of the highlights.
Syracuse - The sabbatical started with a 4-day trip to Syracuse to see my dad. My wife Dina and I picked up our son Mike in Albany and drove to Syracuse to hang with my dad and his partner. On the way back to Boston, we packed up Mike's apartment in Albany (he had just quit his job) and brought him home to continue his search for a job in New York City.
Backpacking - After celebrating the 4th of July in Boston (including attending the Rolling Stones Concert at Gillette Stadium!), I flew to Idaho to meet up with my brother for a backpacking trip in the White Clouds & Saw Tooth Mountain area. The scenery was incredible; it was great to hang out with my brother; the hiking was challenging but not exhausting; and I was able to sleep (sort of) on the ground in my tiny tent!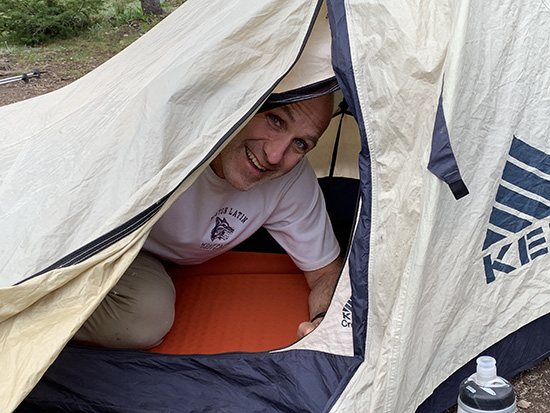 Boston - I then had 11 days in Boston with no travel. This was certainly the longest "stay-cation" of my life but I was able to get into a routine of biking, swimming, reading, visiting with a few friends and helping my son with his job search (mostly nagging).
My Dad's Birthday - In late July, my family and my brother's family met up with my dad and his partner in Beacon, NY (the Hudson Valley region) to spend a weekend celebrating his 93rd birthday by going to not one, but two art museums (he loves art!) It was great for him to catch up with all four of his grandchildren and for the cousins to reconnect for the first time in many months. His quote of the day: "Birthdays are fun – I should have more of them!" I agree!
Cape Cod - Dina and I finally were able to take our own vacation on Cape Cod in early August (she was NOT on sabbatical after all!). We were unable to go last year so it was great to be back on the beaches where we only had two shark alerts! My Dad and Paula spent a couple of days with us (yes, our third visit of the summer!) and then Mike made a surprise visit as well to tell us that he had accepted a job offer from the New Israel Fund in New York City!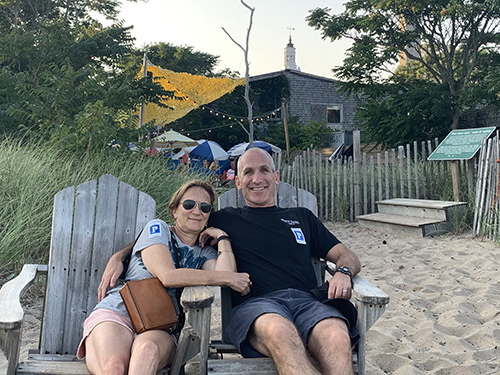 Reading books – not memos - After the Cape, we came back to Boston for a few more days of hanging around. I was able to make progress on my goal of reading more books than I usually do. Over the course of the summer, I was able to read: Washington Black, the Cairo Trilogy (Palace Walk, Palace of Desire and Sugar Street), The Bluest Eye, Evicted, Just Mercy, and Say Nothing. I enjoyed some good podcasts (check out Crimetown to learn about the mob in Providence) and TV shows (City on a Hill; Six Feet Under) and watched a fair number of Red Sox games (although not as many as I would have thought) Of course, none of this interfered with biking or swimming (or both) virtually every day I was in town. I don't think I swam so much during the summer since I worked as a lifeguard in 1984!
Glacier National Park - My next adventure was to go to Montana with my sons Mike and Josh. We started our trip in Kalispel where we attended our first ever Rodeo. The scene was exactly what you might imagine with lots of families, women wearing awesome boots and men wearing their cowboy hats. There was much pageantry, including honoring our military and recognizing Native American heritage and culture. The competition was either incredible or awful, depending on your view of Rodeos, but it was definitely a great opportunity to experience a different piece of American culture. My kids loved it. We then spent four days hiking in Glacier National Park. We saw amazing scenery, lots of wildlife (including a Wolverine!) and walked along and over the Continental Divide. Spending four days hiking with my kids was a great way to spend time together (no cell phone service!), create memories and share new experiences. My son called the trip "magical" and it was.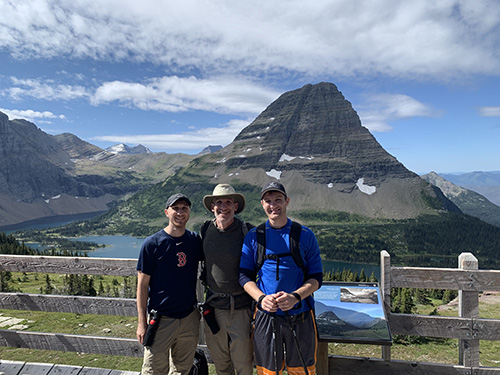 Seattle - The three of us then drove to Seattle and they got to see for the first time how expansive and empty the American West can be. In Seattle, we met up with Dina and most of her family so we could celebrate her sister's 60th birthday.
My Sabbatical Buddy - One special treat this summer was spending time with my 23-year-old son Mike. As noted, he quit his job on the same day that my sabbatical began and he began his new job with the New Israel Fund on the same day that I returned to work so we were both home and "unemployed" for the same 9 weeks! He has been in Albany for the past five years so we have not had nearly so much time to hang out and honestly, we will probably never have a summer like this again. We talked, we played basketball, we ate, we cooked (Dina loved coming home to our (mostly his) meals!), we worked on his job search and then his apartment search. Dina says he was my "sabbatical buddy"! It was bittersweet to drive him to New York City on Labor Day weekend and help him set up his new apartment in Astoria, Queens. I am proud that he had the courage to quit a job he disliked, to pursue something that he really cares about (peace and democracy in Israel) and to take on the adventure of living in New York. But I'm really going to miss having him around.
If you are wondering whether I really avoided work during the sabbatical, the answer is "mostly". While I contacted the staff on one or two occasions early on, I did not talk/email/text with any staff for the last five or six weeks. Yes, I occasionally checked my email, but I did not respond to them and very much enjoyed reading an email and saying to myself "I don't have to deal with that!" Overall, I've been pretty checked out and was able to enjoy my summer without thinking about work very much.
None of this would have been possible if MACDC did not have such a terrific and dedicated staff. I want to especially thank Shirronda Almeida for serving as interim executive director and to everyone on the staff who picked up my workload over the summer. I think it was a great learning opportunity for them and the experience will make our organization stronger, more stable and better prepared for the future.
I am eager to get back to work (starting with those emails and memos that are waiting for me) and I am excited about our agenda for this fall. But if you catch me day dreaming at a meeting, you can probably guess that I'll be reliving my summer memories!