Posted February 07, 2022 by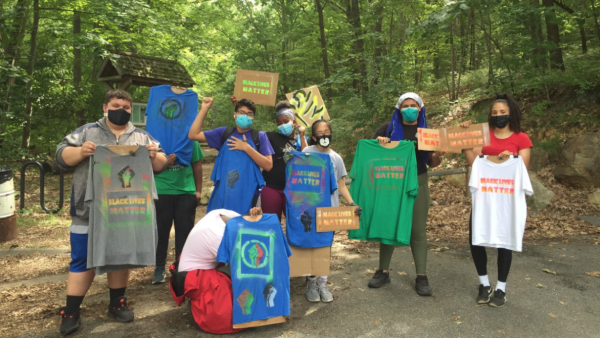 Photo from Groundwork Lawrence.
For almost 22 years, Groundwork Lawrence (GWL) has focused on brownfields and park redevelopment, tree canopy coverage, and youth empowerment.
"We center everything around the community so that the community is really telling us, not us telling the community, where their concerns are," Deputy Director Lesly Melendez said. One of the community's greatest concerns is high utility costs.
Increased tree canopy coverage offers a solution to this concern. Areas with fewer trees have higher utility costs, while more trees lead to lower heating and cooling costs with more natural climate control. Trees also help combat Urban Heat Island Effect, which occurs when land cover is dominated by surfaces like asphalt that absorb heat.
One of the programs GWL leads is the Green Streets program. Launched in 2004, the initiative aims to increase the urban tree canopy across Lawrence by providing free trees to residents and businesses. The GWL team ensures trees are planted in appropriate areas across three Lawrence neighborhoods: the Arlington/Campagnone North Common, the O'Connell South Common, and Colonial Heights. With funding from the Massachusetts Executive Office of Energy and Environmental Affairs' Greening the Gateway Cities program, GWL planted almost 800 trees in the densest areas of Lawrence in 2021.
GWL focuses on educating the community on the benefits and services provided by trees and greenspaces, while also offering paid opportunities for youth to engage around climate action. They have four youth program crews under their Green Team: So Fresh (urban agriculture and food), So Green (trails, parks, trees), So Community (community engagement and outreach), and the newest, So Reduce (recycling, upcycling, composting). During the summer of 2021, GWL expanded its program to 40 youth team members and 8 youth leaders.
GWL is continuing to adapt and respond to the needs of the community during the pandemic. GWL has returned to offering nutrition programs in Lawrence public schools. Looking ahead to this year, GWL is aiming to match the programming additions they made in 2021 and continue to grow their efforts.
"We've grown as an organization in terms of staffing and programming. Now, it's about really digging deep and putting those roots in the ground," Lesly said, "and making sure we're doing what the community really wants us to be doing."
For Lesly, the work is about much more than planting trees. Born and raised in Lawrence, Lesly's favorite part about her job is having the opportunity to give back to a community that has given her so much.
"As a kid, I saw some of these parks in such horrible conditions," Lesly said. "Now, being able to be a part of a redevelopment of a park or creating a new park space, for not just this generation but generations moving forward, is probably the thing that excites me the most."