April 2020
March 2020
February 2020
January 2020
December 2019
October 2019
September 2019
MACDC has long advocated for a program like this, which can help close the state's yawning Racial Homeownership Gap. We expect MassHousing to launch the program before the end of the year.
MACDC and LISC Launch Energy Cohort: More than 30 people, including representatives from 18 CDCs, participated in the first reconvening of the MACDC/LISC Energy Cohort. This is the first formal energy partnership between the two organizations since we convened the CDCs several years ago as LISC launched its Green Retrofit Initiative. The Energy Cohort will reconvene 3-4 times per year on topics that reflect the fast-changing landscape of energy efficiency and renewable energy. Read more here.
What is Health Equity? MACDC recently hired Elana Brochin to lead our Health Equity efforts. But what does the term "health equity" even mean? Elana examines various definitions, then comes up with her own in this article.
MACDC, on September 10, submitted testimony in favor of "An Act supporting affordable housing with a local option for a fee to be applied to certain real estate transactions (H.1769)." This will enable cities and towns to assess a transfer on the sale of residential and commercial property with several significant exemptions (e.g. family transfers and owner-occupants) and with the projected revenue dedicated to a municipality's affordable housing trust fund.
August, 2019
MACDC Members meet with Congresswoman Ayanna Pressley:
July 2019
June 2019
April 2019
July 2018
June 2018

The MACDC Boston Committee met with Boston Planning and Development Agency leadership earlier this month and had a detailed and substantive discussion about zoning, housing production, inclusionary development, linkage, and efforts to slow/stop displacement from our neighborhoods.

MACDC's Suburban Housing Caucus brought together 8 organizations to discuss two case studies about the challenges of developing housing in suburban towns.


Seven members of MACDC's Organizer Peer group went on a tour, led by Jake Lefker, Community Engagement Coordinator of the North Shore CDC of the

Punto Urban Art Museum

,

a walkable (within three blocks), curated arts district within three blocks with dozens of murals in the Point Neighborhood of Salem.

A team of MACDC Board and staff members traveled to Kansas City earlier this month to participate in our third and final two-day training session as part of the Neighborworks America Excellence in Governance program. Through the program, we are working to strengthen our board by engaging in more generative discussions about major issues, improving board orientation, building a deeper leadership pipeline, increasing our diversity and applying a racial equity lens to our decision making.

A dozen MACDC members attended the May 23 MACDC Housing and Real Estate Peer Group meeting. At the meeting, development consultant Henry Joseph provided an update on the impact of recently passed federal tax law and budget bills on CDC real estate projects, including the new opportunities for income averaging in Low Income Housing Tax Credit (LIHTC) projects. Some members spoke about the challenges of combining LIHTC with New Market Tax Credits. The meeting concluded with "speed networking," where attendees had the opportunity to have one-on-one conversations with several of their peers.


MACDC continued its work with CHAPA, the Regional Housing Network, and Habitat to seek passage of legislation that would exempt employees of certain nonprofits who administer publicly funded loan programs (including housing rehabilitation and assistance to home buyers), from the licensing requirements for "mortgage loan originators". The MA Division of Banks (DOB) clarified in June 2017 that nonprofits were not exempt from these licensing requirements, however, DOB stated they will suspend enforcement of these licensing requirements for certain nonprofits until June 30, 2018, and are working with MACDC and its allies on exemption legislation.
May 2018
$803 Million - That's how much CDC's invested in their communities in 2017. That's just one of the findings in our 2017 GOALs report, which is now available. Learn more about what our members accomplished in 2017.

MACDC President, Joe Kriesberg, traveled to Baltimore on April 25 to join colleagues from CDC associations across the Northeast. The meetings were hosted by the National Alliance for Community Economic Development Associations and provided an opportunity to compare notes on our policy, capacity building, and research activities. "It's always interesting to see both how much we have in common and also how different community development can look from state to state," noted Kriesberg. "Of course, it's always the case that I return from such meetings with several new ideas to bring home!"

Joe Kriesberg recorded a podcast for the Neighborhood Preservation Coalition of New York State (NPCNYS) on how Massachusetts CDCs use the Community Investment Tax Credit to Promote Affordable Housing and Community Development.

Don Bianchi attended Valley CDC's 30th Anniversary Celebration earlier this month, here's his take on the festivities at his home-town CDC.
April 2018
March 2018
Joe Kriesberg is part of a team from Boston that has been selected for the PolicyLink All-In Cities Anti-Displacement Policy Network. The Boston Team is comprised of leaders from ACE, Right to the City, MACDC the City of Boston's Department of Neighborhood Development and City Councilor Lydia Edwards. We will be working with teams from nine other cities to develop anti-displacement strategies for Boston neighborhoods.

MACDC joined with PolicyLink and 140 organizations from around the country to submit comments to the U.S. Department of Housing and Urban Development urging them to fully and immediately implement the Affirmatively Furthering Fair Housing regulations adopted in 2015.

MACDC's President, Joseph Kriesberg, has been appointed to the Massachusetts Department of Public Health's Determination of Need's Community Health Initiative Statewide Fund (the CHI Fund) Advisory Committee. The CHI Fund is being created to deploy dollars generated when hospitals make large new capital investments that trigger a state requirement to invest in the fund. According to the Mass DPH, the Fund which is part of the larger Determination of Need program, seeks "to identify, understand and tackle the underlying and common social determinants of health (SDH). The DoN Health Priorities are (6) common SHD's: Social Environment, Built Environment, Housing, Violence and Trauma, Employment and Education."


MACDC is a founding member of the Alliance for Community Health Integration, the 24 member strong coalition seeks to transform our health care system to

address the social determinants of health

. The coalition, led by the Massachusetts Public Health Association, launched in September 2017 has already had a significant impact in mobilizing and growing the movement.
February 2018
January 2018
MACDC signed onto NCRC's letter of recommendations to the Treasury Department regarding their review of the Community Reinvestment Act (CRA). Click here to learn more about NCRC's recommendations and to sign on to NCRC's letter.

MAPC launched the MetroFuture Regional Planning process with an External Advisory Committee of stakeholders. The goal is to update the plan for 2030. The nearly 40 Committee members include representatives of MAPC, City of Boston, local agencies, nonprofits, and funders. MACDC members include Meridith Levy, Scc, Angie Liou ACDC, Rosario Ubiera Minaya North Shore CDC and Barbara Chandler, Metro Boston Housing.

In response to the Boston Globe Spotlight series' "Boston. Racism. Image. Reality." call for the need to support African-American-owned businesses, Joe Kriesberg's advocates for the Small Business Technical Assistance program as a highly effective program that has been supporting minority-owned businesses since 2006.
December 2017
Shirronda Almeida participated in a roundtable forum at the Associated Grant Makers with local Nonprofit leaders to discuss racial equity in our nonprofits. Prentice Zinn's article Racial Equity Starts from Within Nonprofits shares highlights from that conversation.
November 2017
MACDC and the Massachusetts Minority Contractors Association (MMCA) have joined forces to launch the second phase of the Boston Pilot Program, a multi-year effort to expand opportunities for minority- and women-owned businesses on CDC sponsored real estate projects. Phase 2 will build on the success of Phase 1 when six CDCs undertook 12 projects that collectively spent more than $54 million on MBEs and $11 million on WBEs, representing 36 percent and 7 percent of the total development costs. Phase 2 will grow the program to 10 CDCs, 29 projects and total development costs of $634 million. The goal of the program is for CDC projects to utilize MBEs for 30% or more of the project and WBEs for 10% or more of the project, including both hard and soft costs.

MACDC hosted an important discussion last month on innovations in clean energy, including how CDCs can incorporate the latest technologies and systems in their real estate developments to reduce energy use and lower operating costs.

The Mel King Institute Public Housing Training Program launched its Resident Leader training on November 6 at Urban Edge. Twenty residents from five Housing Authorities gathered to learn about new state regulations that impact resident participation and develop skills to build effective Local Tenant Organizations. MKI's Sarah Byrnes co-led the training with our partner Annette Duke from the Mass Law Reform Institute. Residents were highly engaged and eager to take their new skills and knowledge back home. The two-day training will wrap up on December 4 at Urban Edge.

On November 1, MACDC testified before the Massachusetts House Committee on Bonding, Capital Expenditures and State Assets in support of our top legislative priority, H.3925, An Act Financing the Production and Preservation of Housing for Low- and Moderate-Income Residents, generally referenced as the Housing bond bill. This bill would authorize $1.7 billion in new capital funding and was reported out favorably in late September by the Joint Housing Committee. The bill also includes language to extend the Community Investment Tax Credit (CITC) through 2025 and gradually increases the program's annual cap from $6 to $12 million.

MACDC is working with the Massachusetts Smart Growth Alliance to campaign for Great Neighborhoods across the Commonwealth! Please sign this petition in support of housing choices for families and seniors, vibrant and walkable downtowns, and a development approach that preserves natural resources and protects us from climate change.

MACDC joined with hundreds of others on November 1st at the State House to rally for criminal justice reform. After the State Senate passed a criminal justice reform bill, the Jobs Not Jails Coalition organized the rally after the State Senate passed a criminal justice reform bill to urge House members to do the same. The House subsequently passed legislation and the two branches have formed a conference committee to reconcile the differences.

MACDC's Director of Communications, John Fitterer, was the lunchtime speaker of Western New England University's 56th Annual Tax Institute on Wednesday, November 15th. The focus of his presentation was the Community Investment Tax Credit (CITC) program.
October 2017
MACDC joined with community groups from around the state and the region on October 30 to celebrate the announcement of a new Community Benefits Agreement between the National Community Reinvestment Coalition and Santander Bank. Under the agreement, Santander Bank has launched the Inclusive Communities Plan, a five-year effort to invest $11 billion in low and moderate income communities across their footprint. The plan calls for dramatic increases in mortgage lending, small business lending, community development investment and philanthropy.

MACDC is a long-standing member of NCRC and participated in meetings with the bank and NCRC to help shape the plan. We are excited to partner with Santander and NCRC to support the effective implementation of the exciting new plan.

Community Investment Tax Credit (CITC): On November 1, the Massachusetts House Committee on Bonding, Capital Expenditures and State Assets held a hearing on H.3925, An Act Financing the Production and Preservation of Housing for Low and Moderate Income Residents, generally referenced as the Housing bond bill, the $1.7 billion capital funding measure had been reported favorably in late September by the Joint Housing Committee and includes language to extend the Community Investment Tax Credit (CITC) through 2025 and gradually increases the program's annual cap from $6 to $12 million. (You can read MACDC's testimony here.)

Federal Tax Legislation: On November 2, the Republican leadership in the U.S. House of Representatives unveiled their initial draft of comprehensive tax legislation, the Tax Cuts and Jobs Act of 2017. MACDC sent a letter to the Massachusetts Congressional delegation urging our leaders to take a careful look at this baseline proposal, in light of its potentially negative impact on Massachusetts' taxpayers and especially upon low- and moderate-income families. The US House Committee on Ways and Means will begin its "markup" – formal, internal committee debate and amendment process – of the bill, Monday, November 6, 2017 and plan to wrap up the Committee consideration by Thursday. The speed consideration and pace of schedule befits a "bullet train," and not clear whether the legislation will remain on track; House leadership wants the bill to clear the House before Thanksgiving, and Senate Republicans plan to release their tax proposal this week. The initial draft bill presents a lot of challenges for community development practitioners and the families in communities that we serve. For example, the TCJA preserves the Low Income Housing Tax Credit (LIHTC) and the 9% credit, even as it eliminates tax exemptions for private activity bonds and the 4% tax credit. TCJA also eliminates the New Market Tax Credit (NMTC), the Historic Tax Credit (HTC), phases-out/eliminates the Earned Income Tax Credit (EITC) in six years, and its proposal to reduce further the corporate tax rate, from 35% to 20%, will seriously undermine the value of LIHTC investments. (Follow these links for more detailed analysis and key takeaways.)
August 2017
MACDC congratulates our own Shirronda Almeida, director of the Mel King Institute, on winning the 2017 Nancy Nye Memorial Award presented by the Women's Institute for Housing and Economic Development. Shirronda was honored for, among other reasons, the leadership role she has played in advancing racial equity within the community development field.
The MKI Public Housing Training Program will offer its Resident Board Member training in Worcester, Franklin, Holyoke and Danvers over the next twelve months. Check melkinginstitute.org/publichousing for details. The Program is also developing a training for Resident Leaders about tenant participation which will be piloted in Boston in November.

Joe Kriesberg was quoted in Tim Logan's article "Visa program offers promise to the poor - then breaks it" addressing challenges regarding the EB-5 visa program.
July 2017
June 2017
6/8/17 - MACDC submitted a letter to Senate Ways and Means Committee Chair Karen Spilka and House Ways and Means Committee Chair Brian Dempsey addressing a few key community and economic development priorities for FY 2018's state budget.
May 2017
5/2/17 - 200 people from 42 CDCs came together at the State House on May 2nd to make sure their legislators know how important the Community Investment Tax Credit (CITC) is to their communities. Over lunch, Lieutenant Governor Karyn Polito and Undersecretary Chrystal Kornegay announced the latest CITC awards. In addition to visiting 112 legislators, MACDC members heard from Senator Spilka, Chairperson, Joint Committee on Ways and Means. Scroll through photos of the day on Facebook.

MACDC co-signs a letter to MBTA applauding wide range of ideas in the Proposed Transit-Oriented Development Policy and Guidelines and offers recommendations for ensuring affordable housing in all communities.
2/28/17 MACDC signed onto the Action Campaign that is "working to address our nation's severe shortage of affordable rental housing by protecting, expanding and strengthening the Low-Income Housing Tax Credit."
2/15/17 At the MKI Public Housing Training Program, Sarah Byrnes has been gearing up for the launch of the first-ever training designed specifically for Resident LHA Board Members. The pilot training will be on March 2 in Norwood and will focus on network-building, confidence, and understanding the role of the LHA Board Member. On April 4, Day 2 of the training will focus on technical skills such as understanding an LHA Budget.
11/17/16 On election day MACDC staff, as part of a large force of volunteers, collectively spent 40 hours making sure voters knew to vote yes on Question 5 to pass the Community Preservation Act. Everyone's tremendous effort paid off and the CPA passed with 73.64% of the vote.
11/15/16 Rachel has been meeting with CDCs and community members, collecting great stories for the GOALs Report. She's been on a farm, in a barber shop, in a youth art gallery, and most recently heard about a fair food distribution program.
11/04/16 MACDC staff have begun a series of meetings with key Administration officials (Housing & Economic Development Secretary Jay Ash) and legislative leaders and staff (Reps. Kulik, Kaufman, Sen. DiDomenico's staff) to advance the key planks of its 2017-18 policy agenda; Community Investment Tax Credit (CITC) reauthorization, restored funding for the Small Business Technical Assistance (SBTA) Program and sufficient levels of resources for a five-year Housing Bond Bill.
10/6/16 Sarah Byrnes was recently hired to work as the Manager of the new Public Housing Training Program at the Mel King Institute. In response to The Local Housing Authority Act of 2014, this program will provide trainings for residents of public housing to support their full participation in the oversight of their housing developments. Starting in spring 2017, MKI will offer two types of trainings as part of this program. Stay tuned for more info as we launch this exciting initiative.
10/5/16 Fourteen MACDC members travelled to Greenfield, MA on October 5 for our quarterly Small Business Peer Group meeting where we were able to tour the Western Mass Food Processing Center. The Center continues to add new equipment and find new ways to help local farmers bring their products to market. We saw a local company making catalyst kombucha and we were able to taste some of the products during lunch including Fire Cider and sriracha.
9/20/16 David Bryant attended the Women's Institute's 35th Annual Meeting where Andrew DeFranza was awarded the 2016 Anne Gelbspan Partners in Community Award. Check out some photos from the event.
9/15/16 The Community Development Mentoring Program, concluded with a graduation lunch hosted at MassHousing. There were 54 participants in the 9 month program, representing a spectrum of community development careers, organizations and agencies. The Mentoring program is co-administered with CHAPA. Interested in mentoring? Recruitment for the next cycle starts in January 2017. For more information, please email Shirronda Almeida.
8/9/16 - MACDC and TD Bank co-hosted a focus group in Framingham with 16 CDCs from across the state to discuss the financial services needs of their communities and their organizations. The purpose of the meeting was to give input and feedback to TD Bank as they develop their community development and community investment programs for the next several years. The lively discussion covered a range of topics from the continued need for physical bank branches in low income communities, the need for culturally and linguistically competent staff, the need for products that can compete with predatory and expensive products already in the marketplace, and the need to provide intensive coaching and 1-1 support to lower income families and individuals as well as youth and young adults.
Following the retreat, the board went on a walking tour of the Point Neighborhood to learn more about the work of the North Shore CDC. As impressed as we all were with their amazing work, we were equally impressed with the fantastic chocolates made in the neighborhood by Harbor Sweets! We ended the day with a lovely dinner on the waterfront!
7/12/16 - MACDC and its members continue to be very active in the campaign to enact the Community Preservation Act in Boston. The campaign now has over 70 endorsing organizations, raised contributions and pledges totaling nearly $500,000, hired two field organizers, held training session for over 70 volunteers, and is planning its first major city-wide canvass for July 30. Mayor Walsh and 11 or the City's 13 City Councilors have endorsed the effort and are working closely with the campaign to win in November. MACDC President Joe Kriesberg, who is serving as Chair of the Yes for a Better Boston Committee, was interviewed for a story on Boston CPA that aired recently on WGBH's Greater Boston News Affairs program.
7/11/16 - Watch this WGBH video about the Community Preservation Act to learn more about this ballot initiative that will be presented to Boston voters in November.
6/20/16 - See what Joe Kriesberg had to say about the Community Preservation Act on BNN.
5/25/16 - Shirronda Almeida was recognized by MAPC at their Annual meeting on May 25th for her service as MAPC Secretary from 2014-6 and Sustainable Communities Chair from 2012-4
4/5/16 - MACDC joined fellow members of the nonprofit, business and community planning sectors with the submission of comments to the Joint Committee on Economic Development and Emerging Technologies focusing on "Harnessing the Power of Food Sector Entrepreneurs to Drive Economic Development."
4/5/2016 - MACDC Director of Advocacy, David Bryant, provided testimony to the Join Committee on Economic Development and Emerging Technologies in support of an Act to Provide Opportunities for All (H.3983).
3/29/16 - MACDC President, Joe Kriesberg, appeared on WBUR's Radio Boston program to talk about the proposed adoption of the Community Preservation Act in Boston. You can listen to the 20 minute segment here.
3/29/16 - MACDC President, Joe Kriesberg, provided testimony to the Boston City Council on the Community Preservation Act and MACDC's members brought more than 30 people to the City Council Hearing on the Community Preservation Act(CPA) .
Carol Ridge-Martinez, Executive Director of the Allston Brighton CDC testified about how the CPA would help her organization preserve more affordable housing in Allston Brighton and keep long-time residents from being displaced.
3/29/16 - MACDC joined with the Massachusetts Public Health Association (MPHA) and other partners to co-sponsor an informational briefing at the State House on the Massachusetts Food Trust: from concept to impact. Elected officials, business leaders, and community partners were invited to learn how the Trust can create jobs, leverage private investment, and increase access to healthy food choices. Keynote remarks were delivered by Patricia Smith, Senior Policy Advisor, Reinvestment Fund, a CDFI leading efforts in the design and management of healthy food financing initiatives in several states. Rep. Stephen Kulik, Senator Eileen Donoghue, Mayor Brian Arrigo of Revere, and MACDC Board member Dave Christopolis spoke to the potential program benefits for all communities across the Commonwealth.
3/28/16 - MACDC, along with other low income advocates, submitted a letter to the Solar Conference Committee expressing "concern about the legislative proposals to decrease the value of net metering credits for affordable housing and low income solar projects while retaining the "retail" net metering rate for private residential and small solar projects."
3/25/16 - MACDC President, Joe Kriesberg, spoke at an Imagine Boston 2030 Forum at Boston College fielding questions from Panel Moderator Meghna Chakrabarti of WBUR and the audience, Mr. Kriesberg talked about the importance of addressing our housing crisis, preparing for climate change, and restoring public confidence in our government institutions.
3/24/16 - On March 24, MACDC, as a member of the Building Blocks Coalition, sent Gov. Charlie Baker a letter with recommendations for the FY17 Capital Budget.
3/2/16 - MACDC Policy Director, David Bryant, attended the formal release of the Special Senate Commissions on Housing report, "Facing Massachusetts' Housing Crisis." Led by Senate Housing Chair Linda Dorcena Forry and Majority Leader Harriette Chandler, the Committee report presents 19 recommendations, which were advanced by 11 working groups from more than 30 housing practitioners and organizations, including MACDC to formulate ideas, propose policy changes and vet the final document. You can view the final report here.
2/25/16 - MACDC invited six new CDC executive directors for a networking lunch in February. The EDs, whose tenure ranged from 10 months to three weeks, discussed their biggest challenges and shared ideas on how other CDCs could ensure smooth ED transistions. The participants found the lunch so useful they set up a date for another one.
2/24/16 - MACDC participated in the final formal meeting of Federal Reserve Bank of Boston's Working Group on Reducing the Racial Wealth Gap in Greater Boston. During the past six months, MACDC has joined with several CDCs, businesses, nonprofits, NGOs and policy makers in an active partnership of facilitated discussions and strategy planning to address the underlying dynamics of regional wealth disparity, and we will join a small subgroup of members to draft and refine a group report.
2/23/16 Massachusetts Smart Growth Alliance and its members joined with Senator Mike Rodrigues, Representative Chris Walsh, to present a Brownfields Redevelopment Fund briefing to legislators and staff. Secretary Jay Ash and MassDevelopment President Marty Jones were the principal speakers
2/2/16 - MACDC's Director of Advocacy, David Bryant, testified today to the Joint Committee on Housing of Massachusetts General Court concerning the importance of the Comprehensive Permit Law – also known as Ch. 40B or the Affordable Housing Law.
1/21/16 Check out what MACDC and our colleagues in the Building Blocks Coalition are advocating in these FY2017 state budget priorities for affordable housing and homelessness prevention.
12/22/2015 MACDC submitted a letter to Governor Baker today encouraging him to increase funding from $2 million to $2.5 million for the Commonwealth's Small Business Technical Assistance program run by the Mass Growth Capital Corporation.
12/17/2015 MACDC signed onto MassCreative's letter to MBTA General Manager DePaola and Department of Transportation Secretary Pollack requesting that the Integral Arts Program is reinstated.
12/15/2015 MACDC comments on the 2016 draft Qualified Allocation Plan for the Low Income Housing Tax Credit Program run by DHCD.
12/2/2015 MACDC submitted a letter concerning the upcoming DHCD rental round and community-scale projects to Chrystal Kornegay, DHCD Undersecretary.
11/19/2015 - MACDC submitted a letter to Sen. Eileen Donoghue and Rep. Joseph Wagner, the co-chairs of the Joint Committee on Economic Development and Emerging Technologies, commending Secretary Ash and his staff at the Executive Office of Housing and Economic Development (EOHED) for its draft comprehensive economic development plan.
11/9/2015 MACDC submitted a letter to the Massachusetts' Congressional Delegation concerning THUD funding in FY 2016.
11/9/2015 Shirronda Almeida and Kavya Sekar of The Mel King Institute participated in the PolicyLink Equity Summit from October 27-29 in Los Angeles with a cohort from Massachusetts. The delegation of 25 community development professionals was supported by Boston LISC and the Barr Foundation. The delegation included the Mass Smart Growth Alliance, MAPC, Nuestra CDC, CED- SM, Codman Square NDC, Boston Tenants Council, City Life Vida Urbana and Mattapan United. Participants spent three days attending workshops on topics such as the Racial Wealth Gap and community tours, visiting locations such as the Watts Towers and Arts Center. The summit had 3,000 participants from across the county engaged in advancing equity, racial and economic justice. Shirronda and Kavya hope to continue to draw upon what they learned at the summit to facilitate learning and innovation through The Mel King Institute in order to advance the work of Massachusetts community organizations.
10/28/2015 MACDC signed a letter along with numerous nonprofit, academic and religious leaders requesting that the Commonwealth lift the net metering caps.
10/23/2015 MACDC submitted a letter to Governor Baker requesting that he sign into law H.3673 An Act relative to the transfer of certain funds to be credited to the Housing Preservation and Stabilization Trust Fund (HPSTF) for fiscal year 2016.
10/19/2015 MACDC President, Joe Kriesberg, released a statement applauding the Baker-Polito Administration's new Real Estate Leveraging (REAL) Strategy.
10/14/2015 David Bryant, MACDC's Director of Advocacy, testified in support of increasing Boston's Linkage Fees at a Boston City Council Committee on Economic Development and Planning and Labor meeting.
9/22/2015 David Bryant, MACDC's Director of Advocacy, testified in support of H.2540 An Act relative to low-income housing tax credits.
9/16/2015 Joe Kriesberg, MACDC's President, will receive the CHAPA's Community Service Award this year at their Annual Dinner on October 27th along with Judy Jacobson from MHP and the Federal Home Loan Bank of Boston's Affordable Housing Program.
9/15/2015 MACDC's Director of Advocacy submitted testimony today in Support of An Act Promoting the Planning and Development of Sustainable Communities (S.122).
9/12/2015 MACDC's Boston Committee recently sat down with the Boston Housing Authority to discuss their emerging strategy for leveraging Boston's strong housing market to renovate and improve some of the City's public housing developments into high quality mixed income communities where lower income families can live in stable, safe, affordable housing. Many CDCs are interested in partnering with the BHA on this exciting initiative to help ensure that low income tenants are not displaced and are able to fully integrate into their changing communities.
8/28/2015 Kavya Sekar and Rosa Nin visited Codman Square and participated in a lovely neighborhood tour.
Pictured below, in order from left to right, are Kavya Sekar and Rosa Nin.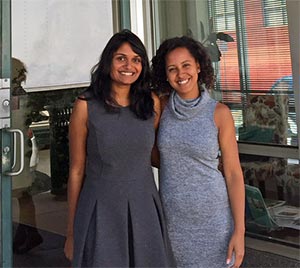 8/27/2015 David Bryant made "learning journeys" to the Cape and Central Mass to meet with members (CDP and Quaboag Valley CDC) and see and hear about their local economic development efforts, opportunities and challenges.
8/18/2015 MACDC staff member John Fitterer attended Housing Corporation of Arlington's CITC Donor Appreciation Breakfast. This was a great event that highlighted not only past achievements, but the future projects of the CDC and why their work continues to be so critical for low- and moderate-income residents of Arlington.
8/18/2015 MACDC conducted an in-person CITC Peer Group meeting at SMOC's office in Framingham for over 45 CDC staff members. The CITC Peer Group was followed up with a training by DHCD on the new online CITC Form.
8/13/2015 & 9/2/2015 MACDC's Don Bianchi participated in in two subgroup meetings of the Preservation Advisory Committee, a group convened by CEDAC to address preservation issues. At these meetings, participants discussed strategies for funding expiring mortgage properties, and potential regulatory changes to Chapter 40T.
9/1/2015 Joe Kriesberg participated in a meeting of the City of Boston's Small Business Development Advisory Council to help the City formulate its strategy for helping local businesses grow and thrive.
9/1/2015 Joe Kriesberg attended Mass Development's Brownfield Advisory Group meeting on September 1 where they discussed recent grants and loans made across the Commonwealth to clean up contaminated land so it can be developed for jobs and homes. Mr. Kriesberg was recently appointed to the Advisory Group by Speaker Robert DeLeo.
8/6/2015 - The Mel King King Institute hosted with CHAPA a breakfast forum, "What do the Supreme Court Ruling on Disparate Impact and HUD's Final Rule Mean for Fair Housing?" This session was considered to be excellent and to provide the depth and necessary discourse for all attending to have a greater understanding of the SCOTUS and HUD rulings and how they will impact our field and the communities in which we work. CHAPA has published online the presentation materials, as well as additional reference material and resources. The Mel King Institute, along with CHAPA and MACDC, look forward to continuing this conversation and learning more about the impact these rulings will have on our work.
Pictured below, in order from left to right, are forum moderator, Charlotte Golar Richie and panelists David Harris, Henry Korman, Deborah Goddard and Joe Kriesberg.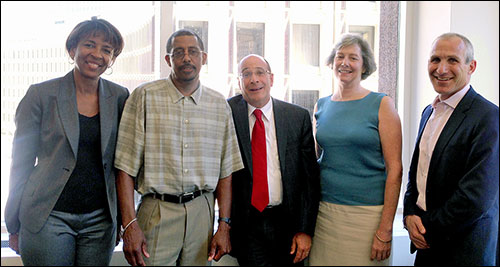 8/5/2015
MACDC's Director of Advocacy, David Bryant, attended the bill signing by Governor Baker for the increase to the Earned Income Tax Credit (EITC). This was a campaign for which we advocated and we're thrilled to be at the successful signing of this critical legislation that will support many of the residents with whom our member's work.
7/30/2015
MACDC submitted a letter to Secretary Ash regarding Economic Development Policy Recommendations
7/24/2015
MACDC President, Joe Kriesberg, in a Boston Globe article today stated that Boston should increase their linkage fees to be on par with Cambridge.
7/23/15
MACDC submitted a letter to Speaker of the House, Robert DeLeo, and President of the Senate, Stanley Rosenberg, opposing Governor Baker's reallocation of lead paint abatement funds.
MACDC president Joe Kriesberg travelled to Washington, DC on July 23 to meet with Congressman Michael Capuano, as well as with staff from the offices of Senators Warren and Markey and with a staff person from Rep. Richard Neal's office. Kriesberg thanked them for their support on a wide range of critical issues, including HUD funding for CDC capacity building (so-called Section 4 funding), Low income housing tax credits, New Market Tax Credits, HOME and other programs.
7/22/2015
MACDC's President, Joe Kriesberg, was in New York attending a meeting of NACEDA's Eastern Caucus.
7/21/2015
MACDC held a day-long Board retreat focusing on the "geography of opportunity," the impact place has on economic and other major community outcomes, as well holding a valuable dialogue on income and wealth inequality. In both major topics for the day, the conversation not only discussed these challenges, but also how CDCs can help address them.
7/17/2015
MACDC submitted a letter to DHCD regarding the Community Scale Production Program.
7/13/15
MACDC's Director of Advocacy, David Bryant, testified in support of an Act relative to community benefits districts (H.144)
7/7/2015
6/24/15
MACDC's President, Joe Kriesberg, spoke at an CITC information session hosted by Harborlight Community Partners
6/23/15
MACDC hosted the Mel King Instiute 6th Anniversary Breakfast at Hibernian Hall.
5/13/15
Recently MACDC President, Joe Kriesberg, wrote a letter to the editor of the Boston Globe in response to an earlier article discouraging the use of Massachusetts state tax credits. In the article, he encouraged readers to consider the Community Investment Tax Credit as a prime example of how tax credits can improve neighborhoods across the Commonwealth.
4/9/15
MACDC Intern, Sarah Murphy Gray, recently moderated a panel featuring civil rights activist and legislator Julian Bond about mass incarceration, homeownership and financial stability. Read more on the panel here.
2/1/15
MACDC recently received renewed funding from the Citi Foundation to support our member services activities, as well as our ongoing work understanding and promoting the positive public health outcomes of community development.
MACDC participated in a "Think Tank Roundtable" on how to promote cross sector collaboration between the arts, culture & creative sector with other fields such as the environment, human services, education and community development. The roundtable was hosted by the Arts & Business Council of Greater Boston, MASSCreative and StageSource and prompted a range of ideas for things that could bring multiple sectors together in mutually beneficial ways. The conversation is part of a longer process of strategic thinking, outreach and planning by the Arts sector designed to prompt some new programmatic and policy initiatives.
1/26/15
Joe Kriesberg will be moderating a panel at Action for Boston Community Development (ABCD), Tuesday, February 3rd, from 3:30-5:30pm. The panel, "Solutions: New Thinking About Dilemmas of Economic Opportunity", will discuss tough subjects around housing opportunities like micro-housing. RSVP today by emailing Roxanne Reddington-Wilde at roxanne.redwilde@bostonabcd.org or call 617-348-6464.
1/14/15
MACDC recently gathered with The National Alliance of Community Economic Development Associations (NACEDA) in Hartford, Connecticut to share ideas and collaborate with other CDC Associations on best practices. Massachusetts, Connecticut, New Jersey, Pennsylvania, and Rhode Island were all represented as Joe Kriesberg presented to the group on the impact of health on communities. Associations also spoke on their greatest achievements and challenges of the past year, and were able to brainstorm on how to address these challenges moving forward.
12/1/14
MACDC and its members met with the Division of Banks to discuss refinements to the Chapter 206 Foreclosure Prevention and Homeownership Education program administered by DOB. MACDC helped win enactment of the program in 2007 as part of a comprehensive anti-foreclosure program created at that time. For the past several years, the program has provided stable funding to CDCs and other nonprofits that provide foreclosure prevention and homeownership education services. With the foreclosure crisis hopefully abating (at least to some degree) MACDC discussed with DOB how the program can evolve to meet the changing needs of our communities. MACDC expects approximately $1.5 million to be available in 2015.
MACDC joined with the Mass. Public Health Association and other advocates last month to discuss how to ensure the full implementation and funding of the newly enacted Massachusetts Food Trust Program, designed to bring healthy food to underserved communities. The program would provide capital to Community Development Financial Institutions so they can support local food enterprises and health food retailers.
MACDC's Boston Committee met with Mayor Walsh's housing director, Sheila Dillon, to discuss how CDCs can help implement the Mayor's new Housing plan: Housing a Changing City: Boston 2030.
8/7/14
Shirronda Almeida Participates in MassDEP's Speaker Series: On Tuesday August 5th, Shirronda Almeida was a guest speaker for MassDEP's Commissioner's Summer Speaker Series. Speaking to 20 staff members and summer interns, Shirronda shared details about the Mel King Institute's work, her tenure as chair of MAPC's Sustainable Communities Consortium, and the State of Equity in Metro Boston event that MKI co-sponsored. This is the fourth year of the Summer Speaker Series, which runs from June to August.
Last week, MACDC met with staff from the Mass Cultural Council, MAPC and Mass Creative to learn more about each organization's vision, ideas and overall direction concerning arts and comprehensive community development. MACDC is beginning to not only learn more about how arts can significantly contribute to establishing, revitalizing and preserving the culture and identity of a community, but how we may be able to help lead an increased focused on the value of the arts in our communities. We know that the arts create new opportunities for people to connect, create community and foster collaboration. Is there an intentional effort or strategy that MACDC can address with our members to help initiate and drive additional understanding and action regarding the intersection of arts and community development? We invite you to share your thoughts with us, and we will keep you posted as we learn more.
MACDC held a Real Estate Summit in Framingham on July 22nd, attended by 30 people from 23 MACDC Member organizations. Prior to holding the Summit, MACDC distributed a survey on real estate development priorities, and received responses from 20 organizations. All told, 28 Member organizations provided input into MACDC's real estate priorities through either completing the survey or attending the Summit, or both. MACDC was ably assisted by Louise Elving from VIVA Consulting in planning and facilitating the Summit. Despite the broad breadth of real estate development activities our Members undertake, our Members were able to reach general agreement on some key real estate development priorities for MACDC's advocacy over the next couple of years. There was strong support expressed for the following issues, listed below. This input is one key part of the process MACDC is currently undergoing in developing our advocacy agenda for 2015 and 2016. We will also be meeting with allies, funders and others in the coming months to talk about these issues.


Continued funding for LIHTC projects.

A set aside of new funds for small-scale rental projects, to be considered in a funding round separate from tax credit projects.

Additional funding for homeownership projects.

Additional funding for supportive housing (including project-based rental subsidy and, when needed, program money for services) - for ELI/homeless populations, and perhaps for other populations as well.

Additional funds for the State low-income housing tax credit.
7/24/14
On July 16, MACDC and CEDAC co-sponsored a workshop for MACDC Members on preservation transactions. At the workshop, attended by representatives from 19 MACDC Member organizations, Andrew Kerivan from Madison Park Development Corporation and Andrew DeFranza from Harborlight Community Partners teamed with CEDAC to explain how MACDC Members can acquire properties in need of preservation. They spoke about how Members can identify opportunities, negotiate with owners and acquire the properties, and the State policies and regulations that apply to such transactions.
7/22/14
Last week, MACDC joined with the Massachusetts Affordable Housing Alliance (MAHA) and other leaders from the Homeownership Action Network (HAN), including two dozen past and prospective homebuyers affiliated with MAHA, to meet with Sheila Dillon from the City of Boston to discuss how the City can support first-time homebuyers. Among HAN's recommendations is to require those banks who want to participate in the City of Boston's down payment assistance program to offer the One Mortgage Loan provided by Massachusetts Housing Partnership. One Mortgage is the most affordable mortgage product on the market for homebuyers with below average incomes. HAN also recommended that the City create a Homeownership Advisory Committee to guide its efforts to support low- and moderate-income families to buy and sustain homeownership. Ms. Dillon was very receptive to these ideas and agreed to continue working to refine and implement strong policies in support of homeowners.
The Mel King Institute hosted the first meeting of the Gentrification Working Group at Northeastern University this week, launching a year-long process of collective learning about the causes, impacts and potential responses to gentrification. With leadership from LISC, and funding from the Barr Foundation and Neighborworks America, the King Institute has hired the Interaction Institute for Social Change to facilitate the process. Forty practitioners representing a wide array of community activists, community developers, researchers and government officials were selected to participate in the learning group, ensuring broad diversity across sector as well as race and gender. The process will begin with participants engaging in a "question campaign" where we seek to gather questions about gentrification from our colleagues, neighbors and constituents. These questions will then guide our learning process. The group also plans to host public forums and discussions to enable a broader cross section of people to participate in the process.
7/15/14
At a recent Community Economic Development Center (CEDC) event, MACDC President Joe Kriesberg spoke to South Coast Today about the CITC program, the benefit of the tax credits and how this program will help CDCs improve their local communities. Read the article and watch the video with Joe on South Coast Today's website.
7/14/14
Community Development Mentors Needed: The Alliance's Mentoring Program is looking for community development professionals to be mentors. Interested individuals should contact Shirronda Almeida at MACDC. More information is available on our website.
Nixon Peabody's Evelyn Moreno Highlights Community Investment Tax Credit Community Impact & Tax Savings: In a recent article shared on our website, Nixon Peabody's Evelyn Moreno outlined the benefits of the CITC program, emphasizing how can participants can make a difference while securing a tax credit. Read the full article here.
MACDC Joined MAPC for Public Art Forum: MACDC staff recently participated in a forum sponsored by MAPC, which promoted the role of public art in developing strategies for community building. The forum introduced MACDC to new partners and best practices.
Gubernatorial Forum on Housing a Success: On July 9th, MACDC joined CHAPA and other allies for a governor candidate's forum, attended by six candidates, on housing and community development. Tweets from the event can be found under the #Housing4Gov hashtag.
6/24/14
MACDC President On Making Campaigns Matter: Joe Kriesberg recently wrote an op-ed column which outlines the importance of engaging the gubernatorial candidates during this election year. Kriesberg also urges CDCs and nonprofits to get involved and play a part in shaping the solutions to Massachusetts' challenges. Read the full op-ed on our website's News Section.
MACDC Announces the Release of Its 2014 GOALs Appendix: The appendix includes detailed information on the 2013 accomplishments of 65 MACDC Members in six categories: leaders, homes, jobs, small business assistance, families, and investment. The Appendix, with its detailed tables and charts, supplements the recently-released 2014 GOALs Report, which highlighted the stories behind these accomplishments. The Appendix also includes pipeline projections for real estate development through 2017, and a comprehensive register of historical real estate projects dating back to 1972. Click here to full the full report and appendix.
Mel King Institute Launches New Peer Group: Following up to the Institute's popular Supervision Seminar, MKI has launched a new Supervisors Peer Group, providing support to and sharing best practices with supervisors of all levels of experience. For more information, visit the MKI website.
MACDC and LISC Meet with Western MA Members: On June 24th, representatives from LISC traveled to Northampton to meet with the nine of MACDC's Western Massachusetts Members, who collectively represent a region that covers from Springfield to Ware to Chesterfield to Great Barrington. These organizations came to hear Bob Van Meter and four of his LISC colleagues talk about their new statewide initiatives, in their role as a Community Support Organization under the Community Investment Tax Credit Program. This includes the potential for new resources, including a soon to be launched Transit Oriented Development Fund to provide predevelopment and acquisition funding, planning grants to help CDCs implement their Community Investment Plans, and the potential opportunity for Rural LISC to select additional CDC Program Partners.
6/12/14
MACDC Joins Coalition in Opposing the Gas Tax Repeal: MACDC has come together with Transportation for Massachusetts and a coalition of other public safety, civic and advocacy organizations to oppose a ballot question that would repeal the gas tax indexing. A full article about the coalition is available on the News section of the MACDC website.
MACDC President Speaks at 8th Annual MA Housing Institute: Joe Kriesberg provided a housing updated on state and federal policies and programs at the 8th Annual Massachusetts Housing Institute, a two-day training offered by the Mel King Institute and the Massachusetts Housing Partnership.
Deadline for the Community Development Mentoring Program is June 16: Those interested in the community development mentoring program should complete the online form prior to June 16th. For more information about The Alliance program, administered by MACDC and CHAPA, click here.
MACDC Joined the Massachusetts Nonprofit Network for Online Campaign: On Monday, June 9th, MACDC joined nonprofits across the state to participate in the Massachusetts Nonprofit Network's Nonprofit Awareness Day. The day-long event was preceded by a social media campaign that emphasized use of the hashtag #nonprofitsmakesense.
Mel King Institute Leads Course on Community Walking Tours: In early June, the Mel King Institute conducted a training that instructed organizations on how to create walking tours of their communities and how to engage residents to lead them. Visit the website for more information about MKI's courses.
5/29/14
On July 9, 2014, MACDC will join CHAPA and other community organizations for a candidate forum on Housing and Community Development. Massachusetts gubernatorial candidates will be asked to share their thoughts and plans for investing in safe and affordable homes in vibrant communities where households can be productive, healthy, and successful. The event will take place at Faneuil Hall, from 2 PM to 4 PM. Registration is required and you can suggest questions for the candidates when you register. Questions? Email Rachel at CHAPA.
5/23/14
5/21/14
Moving MA Forward: A Gubernatorial Forum on Transportation & Smart Growth: Join Transportation for Massachusetts, the Massachusetts Smart Growth Alliance, Livable Streets Alliance and the Kendall Square Association, on June 4, 2014, for a candidate's forum to find out where the Massachusetts gubernatorial contenders stand on transportation and smart growth issues. Paul McMorrow, Associate Editor at Commonwealth Magazine, and Doug Foy, CEO of Serrafix, will moderate the forum. The forum will take place from 6 PM to 8 PM in the Rabb Lecture Hall at the Boston Public Library's Copley branch (700 Boylston Street). Seating is first come, first serve. To register for tickets, visit the forum's Event Brite page. Have questions you'd like the candidates to answer? Email them to Jamie@livablestreets.info or tweet your questions to @StreetsBoston, #MovingMAForward.
4/20/14
2014 Lobby Day - A Focus on Small Business at the State House: On Wednesday, April 16th, MACDC held its Annual Lobby Day at the State House with over 200 CDC board members, staff and community supporters joining us for meetings with elected officials and a lunchtime speaking program. Continue...

MACDC Releases Preliminary GOALs Results for 2013: The MACDC GOALs Initiative highlights the annual achievements of our members in six categories of community development. Results are aggregated from a comprehensive annual, web-based survey, in order to record significant trends and accomplishments over time. Continue...
CITC Information Breakfast: MACDC hosted a Community Investment Tax Credit information breakfast at the Boston College Club on Thursday, April 17th. Over 40 people attended the breakfast to learn more the tax credit and how they can help make the program a success. Learn more about the Community Investment Tax Credit.
MACDC Member Advocacy Helps Secure over 25 Co-sponsors to Peake Amendment: MACDC and its members worked quickly over a 48-hour period, concluding on Friday, April 11th, to secure over 25 co-sponsors for Rep. Sarah Peake's proposed amendment to the House FY 2015 state budget that would provide $2 million for the Small Business Technical Assistance Program. The Peake Amendment would provide critically needed funding for one of the state's most successful economic development programs, the Small Business Technical Assistance Program administered by the Mass. Growth Capital Corporation (MGCC). Last year, the program served over 900 businesses at a cost of less than $1,000 per business, while helping to create or preserve over 800 jobs. The Amendment will be considered by the House of Representatives during its debate on the FY 2015 budget during the week of April 28.
MACDC President Joe Kriesberg moderated a panel on Gateway Cities at a conference sponsored by the Joint Center on Housing at Harvard University: Check out video from the event (full length, orPart 1: Welcome & Keynote, Part 2: Panel 1, Part 3: Panel 2 & Wrap-up).
4/7/14
MACDC and its members worked quickly over a 48-hour period to secure over 25 co-sponsors for Rep. Sarah Peake's proposed amendment to the House FY 2015 state budget that would provide $2 million for the Small Business Technical Assistance Program. The Peake Amendment would provide critically needed funding for one of the state's most successful economic development programs, the Small Business Technical Assistance Program administered by the Mass. Growth Capital Corporation (MGCC). Last year, the program served over 900 businesses at a cost of less than $1,000 per business, while helping to create or preserve over 800 jobs. The Amendment will be considered by the House of Representatives during its debate on the FY 2015 budget during the week of April 28.
MACDC Releases Preliminary GOALs Results for 2013
MACDC conducted two briefing calls to prepare our members to advocate for the Small Business Technical Assistance Program, the Brownfields Redevelopment Fund, the Mass. Rental Voucher Program and other key priorities at our Lobby Day on April 16th
MACDC has begun working with MHP and other stakeholders on building a strategy for expanding the development of affordable housing in our state's rural communities. Stay tuned for more information as we begin to develop policy and practice recommendations.
The Mel King Institute for Community Building conducted a class on April 4th, "Engaging Constituents for Community Impact" for 18 participants
MACDC's President, Joe Kriesberg, spoke at the Partners for Housing Conference on April 7 at Clark University on the role that CDCs and community based organizations play in the larger affordable housing "eco-system."
MACDC's Director of Communications, John Fitterer, presented at NeWire's luncheon on Friday, April 11th about the Community Investment Tax Credit
MACDC's President, Joe Kriesberg, presented the Community Investment Tax Credit program on Martha's Vineyard on Saturday, April 12th at Island Housing Trust's Annual Meeting
3/31/14
MACDC hosted a CITC networking lunch in Western Mass with Quaboag Valley CDC, Springfield NHS, Valley CDC, Hilltown CDC and Franklin County CDC. The lunch was attended by close to 30 people representing prospective donors or prospective donors themselves to learn more about the CITC program.
On Friday, March 28, MACDC and our board met with Attorney General Martha Coakley to learn more about her priorities as a Gubernatorial candidate and to discuss with her issues such as comprehensive community development and affordable housing shortgages in the Commonwealth.
MACDC's President, Joe Kriesberg, joins Boston Mayor's Affordable Housing Task Force. Check out the Boston Globe article: "Mayor launches task force to tackle lack of affordable housing"
MACDC launched a supervisors peer group on March 28 at Madison Park DC. This new peer group is another service we are providing for our members as we work with them to increase their staff's skills and each organization's capacity overall.
3/18/14
MACDC President Joe Kriesberg was on the speaking circuit this past week. On Monday, he spoke on a panel discussing the Geography of Opportunity at National Conference for the Funders Network for Smart Growth and Livable Communities, which was being held in Boston. On Tuesday, he was the featured speaker at the Hilltown CDC Annual Meeting; and on Wednesday, he spoke to the Board of Directors of the United Way of Central Massachusetts about the Community Investment Tax Credit.

MACDC joined with hundreds of community investment advocates to attend the National Community Reinvestment Coalition's Annual Policy Conference in Washington, DC. A delegation from Massachusetts met with Congressional staffers on Capitol Hill to push for strong affordable housing provisions in the proposed Housing Finance Reform legislation being considered in the Senate. Massachusetts Senator Elizabeth Warren was the keynote speaker at NCRC's Capitol Hill Luncheon and received a rousing ovation for her strong advocacy on this issue.

MACDC also participated in a day-long strategic planning retreat for the National Alliance of Community Economic Development Associations (NACEDA). NACEDA is seeking to expand its national partnerships and deepen its support for local and state associations.

On Thursday, March 6th, Jennifer Gabriel and Matt Wally from TD Bank stopped by to present MACDC with a grant award!
The Mel King Institute for Community Building conducted two trainings this week: 1) Demystifying CDC Financial Statements; 2) Community Land Trusts.
MACDC convened its Community Organizer's Peer Group for an in-depth discussion on their work and applied best practices
2/28/14
MACDC signed on to a letter with our colleagues at the National Alliance of Community Economic Development Associations in response to proposed changes to the IRS regulations governing the so-called political activity of nonprofit organizations. While the proposed regulations pertain only to 501c4 organizations, the IRS explicitly indicates that these regulations could be extended to 501c3 organizations like MACDC and CDCs. Our concern is that the draft regulations could severely limit the ability of nonprofit organizations to participate in non-partisan voter education and mobilization efforts, thereby leaving voter education largely to partisan organizations and political parties and private corporations.

MACDC members met with two more candidates for Governor this week: Evan Falchuk from the United Independent Party and Don Berwick, from the Democratic Party. Both discussions focused on how state government plays an important role in supporting and facilitating community economic development. Both candidates agreed to participate in a Gubernatorial Candidate's Forum at the MACDC Convention on October 25 if they are on the final ballot.

On February 26, MAPC held its Winter Council meeting at the Colonnade Hotel where Shirronda Almeida, Chair of the Sustainable Communities Steering Committee and MAPC Gubernatorial representative, moderated a panel highlighting projects across the region. Of the six projects featured, two included MACDC members: Somerville Community Corporation on Managing Neighborhood Change and North Shore CDC's Neighborhood Vision and Action Plan for Salem's Point Neighborhood.

MACDC is in discussions with DHCD and a wide range of affordable housing stakeholders to develop strategies for reducing the cost of affordable housing development, with the goal of building more homes with available subsidies. MACDC Members are providing their feedback and ideas into this process.

MACDC is working with MHP and other stakeholders on building a strategy for expanding the development of affordable housing in our state's rural communities. Stay tuned for more information as we begin to develop policy and practice recommendations.

MACDC was at the State House for the 2014 Massachusetts Rental Voucher Program (MRVP) Cookie Day co-sponsored by Rep. Kevin Honan and Senator Jamie Eldridge. Along with a large group of MRVP tenants, folks from homeless shelters and advocates MACDC engaged legislators to fund MRVP at $87.5 million so that 2,000 additional families can afford housing.

On Thursday, February 27th, Joe Kriesberg, Shirronda Almeida, and Pam Bender discussed their trip to Cuba last December with a group of community development professionals. Nine of the 20 people who went to Cuba shared their experiences and heard from others who have been to Cuba.
2/21/14
MACDC continued to work with the Department of Revenue and the Department of Housing and Community Development to prepare for the formal launch of the Community Investment Tax Credit program in Massachusetts. The first round of tax credit allocations are expected to be announced within the next few weeks and both agencies are now finalizing the forms, procedures and regulations that will ensure the smooth and proper implementation of the tax credit. Look for some more exciting announcements very soon!
MACDC received a significant grant award from the Citi Foundation! MACDC's Board & Staff thank Citi for the their continued support of our work.
2/14/14:
MACDC has launched its campaign to secure $2 million in state funding for the Small Business Technical Assistance program. Last year the program served 910 entrepreneurs around the state and created or preserved over 800 jobs.
MACDC and its partners in the Brownfields Coalition are very pleased that the Legislature has voted to include $15 million in the Supplemental Budget to partially recapitalize the Brownfields Redevelopment Fund. While additional funding will be necessary, this is an important step forward that will allow many critical projects to move forward.
MACDC's Board of Directors has begun meeting with candidates running to be the next Governor of Massachusetts. So far we have met with Juliette Kayyem, Steve Grossman and Charles Baker. We have meetings coming up soon with Don Berwick, Evan Falchuk, and Martha Coakley. The discussions have been very informative for both us and the candidates, and have provided us with an opportunity to personally invite the candidates to attend the MACDC Convention on October 25 where we plan to have a forum with those candidates who are on the final ballot.
MACDC's President Joe Kriesberg recently completed his work as co-leader of Mayor Martin Walsh's Housing Transition Team when he and co-team leader, Vanessa Calderon Rosado from IBA, presented their recommendations to the Mayor and his senior staff.
MACDC presented a webinar on the CITC program to the Financial Planners Association of Massachusetts on Wednesday, February 12th.
MACDC recently hosted its first peer learning session for Asset Managers from our member organizations. The meeting provided an opportunity for practitioners to share information and best practices and to plan future learning opportunities.
MACDC submitted comments to DHCD regarding the Draft 2014 Qualified Allocation Plan
MACDC is currently conducting its annual GOALs survey to collect data on the work of our members. We expect to publish the report in the spring. Check out the GOALs page on our website to view past reports and some new interactive graphs.
MACDC recently updated the History page on our website with a timeline on of our history. Check it out and let us know what we forgot to include.