Welcome to MACDC - The Massachusetts Association of Community Development Corporations
At Our Core
MACDC is an association of mission-driven community development organizations dedicated to creating places of opportunity where ALL people can live with dignity while participating in and benefiting from our Commonwealth's economy.
Learn more about:
Friday, November 15th: 9:00am - 2:00pm
College of the Holy Cross, Worcester
Parking for the MACDC Annual Meeting & Conference will be provided at the Auburn Mall SEARS Parking Lot at 385 Southbridge Street, Auburn, MA.
Shuttle buses will be running between Auburn Mall and the Hogan Center all day starting at 8AM.
---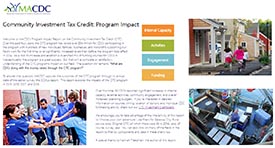 As a tool to increase and establish a diversified mix of funding sources for CDCs in Massachusetts, the CITC program is a great success. But that isn't a complete or satisfactory understanding of the CITC program's impact on our field. Through this report, MACDC explores the impacts of the CITC program in 2015, 2016, 2107, and 2018.
---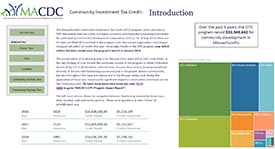 Dig into the CITC fundraising data. Learn about the business sectors and zip codes with the greatest levels of support.

Nuestra Comunidad's now completed Bartlett B Project was a part of the Boston Pilot Program. (Photo courtesy of Nuestra Comunidad) 
After two years of trainings, the Public Housing Training Program is updating its Resident Leader Training curriculum. A group of residents, trainers and partners has come together to make the curriculum more interactive and more grounded in resident experiences, and to add a stronger racial equity lens.
No front page content has been created yet.