Revitalize CDC Celebrates CDC Certification & New Name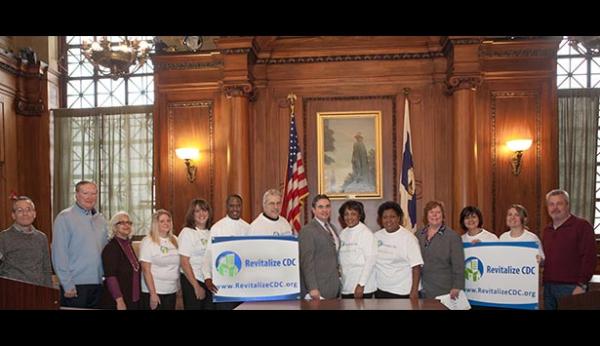 The newly-named Revitalize CDC celebrated its membership in MACDC and its status as a newly-certified CDC by the MA Department of Housing and Community Development (DHCD) in an event at Springfield City Hall on January 6th. Formerly Rebuilding Together Springfield, Revitalize CDC has worked in Springfield since 1992, enabling homeowners to stay in their homes by repairing and making them energy efficient. In the last year alone, Revitalize CDC rebuilt 48 homes and utilized 2,500 volunteers.
At the event, CDC Executive Director Colleen Loveless welcomed the more than 40 attendees, while CDC Board Members, clad in matching Revitalize CDC t-shirts, stood alongside. She introduced Springfield Mayor Dominic Sarno, who praised the work of Revitalize CDC and its partnership with community and institutional supporters, including Mass Mutual and local lenders. Don Bianchi of MACDC spoke about the significance of achieving CDC certification, as Revitalize CDC was able to demonstrate to DHCD its community development success in Springfield, and that its constituency, including low-and moderate-income people, are meaningfully represented on its Board of Directors.
Leslie Belay of the Massachusetts Growth Capital Corporation (MGCC) then presented Colleen with a check to help seed Revitalize CDC's initial foray into providing small business technical assistance. As Colleen noted, these new services will be available to the entire City of Springfield, with a focus on the City's underserved Latino community. Everyone present helped launch a new direction, and name, for an organization that has long served its community.