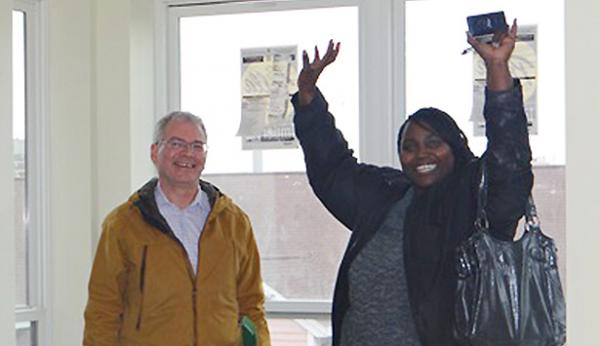 "What a wonderful day...bringing families together," Genesa Patten-Mendes, Winn Residential's Senior Property Manager, exclaimed as she greeted families who toured the Dudley Greenville property earlier this month.

MPDC employees and Landmark Construction representatives escorted 12 families on a "first look hard hat" tour of their new units at Dudley Greenville, our newest 43-unit development in Dudley Square. With assistance from the Boston Housing Authority, staff at Winn Residential processed over 940 applications. The first group of residents were selected through a lottery process and have committed to occupying the units upon completion.

"One tenant was so excited that she started jumping for joy," one onlooker observed as the families toured each unit that would soon be their own new home. Russell Tanner, MPDC's Director of Real Estate, was on-hand to answer questions ranging from the date of occupany to interior paint colors.

The apartments will be mixed income with nine units available for rent to tenants at or below 30% of the average median income; and 35 units available for rent between 50-60% of the average median income.

Dudley Greenville is slated to open in late Spring 2014.
A special thanks to Katrina Conrad-Gwyn for help in planning and implementing this event.