Posted September 18, 2014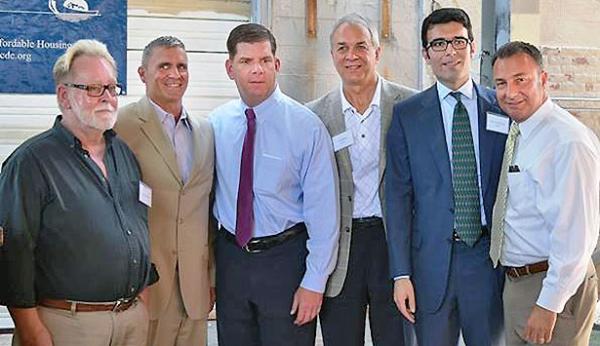 On July 22, Mayor Walsh and our elected officials helped NOAH announce their Coppersmith Village project, a dynamic new development along Border and Liverpool Streets in East Boston. It will be a mixed-use, mixed-income, development of 15 for-sale town-homes, 56 rental units, and a 3,000 square foot restaurant with outdoor terrace. Over half of the units will be affordable to those earning less than 100% AMI. It is fully zoned and permitted by the City.
Mayor Walsh commented, "It's going to dovetail into a lot of the work that we're doing in the City, around other public spaces in the City of Boston. In this budget, we set aside $35 million for improvements to East Boston in the capital plan...Coppersmith Village is good for East Boston, and it's a good sign for the entire City of Boston. You have the opportunity here to build a model that we want to replicate."
The street-scape will be beautified with new trees and lighting, and a "pocket" park will be created adjacent to a new community room. Designing for climate change and flood resiliency has been a priority from the start. We will continue to maintain the site, cutting down weeds, securing the buildings, and paying taxes. For those of you who couldn't make it to the Kick-Off announcement event, NOAH recorded the speakers. You can watch the video on their YouTube channel by clicking here.