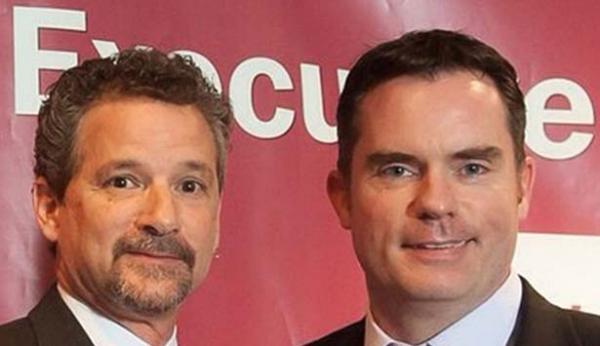 [Photo Caption: Robert Corley, on the right, is presented with the "Emerging Leader Award" by Chris Krehmeyer, on the left, President of the National NeighborWorks Association (NNA)]
NeighborWorks Southern Mass. Executive Director Robert Corley received the "Emerging Leader Award" from the National NeighborWorks® Association (NNA) at the Annual NeighborWorks® Executive Directors Presentation, sponsored by Citi Community Development.
Presented annually to outstanding practitioners in the field of housing and community development, the award recognizes a NeighborWorks executive director "whose energy and innovation has improved the value of his or NeighborWorks organization and the network." The Award-winner was selected by a jury composed of three industry-related executives from outside the NeighborWorks network, as well as last year's winners.
"Since becoming executive director, Rob has spearheaded a number of new initiatives," said NeighborWorks Southern Mass. President Normand Grenier, who served as the agency's director from 1986 to 2009 before becoming its board president. "He has also become a leading voice on housing issues at both the state and national level."
Corley joined the organization in 1997, serving as director of real estate before becoming executive director in 2009. Since Corley's appointment as executive director, the organization has grown from serving 25 cities and towns across the South Shore to being a fully regional organization. In April 2013, the agency formally changed its name from Neighborhood Housing Services of the South Shore to NeighborWorks Southern Mass.
The agency has also completed numerous development projects in that time, including Winter Gardens – an energy-efficient 24-unit apartment building in Quincy that recently won the Audrey Nelson Community Development Achievement Award – and multiple new developments for returning veterans and their families.
Corley has also played an active role in advancing housing policy. As vice chair of the board of directors of the Massachusetts Association of Community Development Corporations (MACDC), he helped create the Community Investment Tax Credit, which aims to spark public/private partnerships by awarding tax credits in exchange for qualified contributions to non-profit housing agencies.
For his efforts, Corley was recognized with a 2012 MACDC Rising Star Award and a Community Development Award from the City of Quincy.
Corley currently serves on the National Home Ownership Steering Committee for NeighborWorks America and as a board member of the National NeighborWorks Association (NNA). He also serves as a trustee of the South Shore Economic Development Corporation.