Posted August 06, 2014 by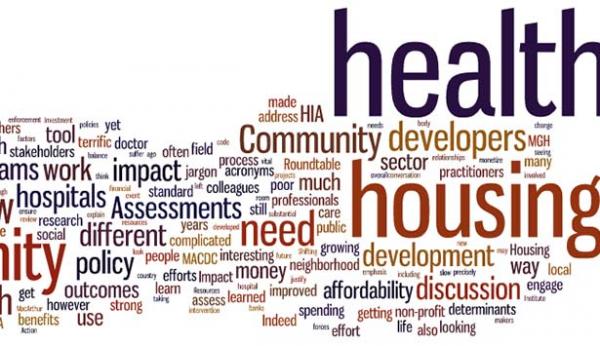 I have spent most of my personal and professional life trying to avoid the health care industry. Not only do I hate going to the doctor, but I avoided getting involved in health care policy because it seems so incredibly complicated and fraught. I am now starting to change my ways.
Having turned 50, I now have no choice but to see the doctor more often. And in my professional life, we are seeing a convergence between the community development field and the health sector that has me dipping my toes into the health sector!
This week, I participated in a terrific discussion during the "How Housing Matters for Healthy Child Development Roundtable," sponsored by the Urban Institute and the MacArthur Foundation here in Boston. The Roundtable brought together about 40 professionals from the fields of housing, community development, public health, and medicine. It also included a diverse mix of researchers, practitioners, policy makers, and funders. The diversity of the group made for a wonderfully interesting discussion, although we frequently had to slow down to spell out acronyms or explain jargon to our colleagues from the other sector. Some of the most interesting parts of the discussion for me were:
We know a lot, but we don't know everything: Despite the growing body of evidence that demonstrates the importance of housing and neighborhoods to health outcomes for lower income people, much of the discussion was about what we don't yet know about the connections. Indeed, I was struck by the way researchers focus on what we don't know whereas practitioners are trying to apply what we do know (or think we know!). These are fundamentally different orientations and it can be challenging sometimes to bridge them.
Housing quality has improved, but affordability is getting worse: While 83% of poor people nationally have housing affordability problems, 22% suffer from overcrowding and 12% from poor housing quality. These numbers were substantially different 50 years ago and the changes reflect the significant progress made over the past several decades in housing code enforcement and the improved quality of publicly-assisted housing developed by CDCs and other nonprofit and private developers. Indeed, some of the growing affordability challenges are likely due to the overall improvement in housing quality.
Shifting funds from health to housing won't be easy: There are many efforts underway to begin to realign spending priorities to put greater emphasis on social determinants of health, including housing and neighborhood conditions. This will create opportunities for community developers and should restore some balance to our use of public resources. Health outcomes, however, are impacted by so many factors that it is very hard to isolate the impact of housing or neighborhood quality. There may be limits to how precisely we can measure their impact or monetize the health benefits of housing interventions. These data limitations, along with strong political forces, will limit our ability to shift substantial funding from health to housing. Rather than focusing on taking money away from health, we need to use the research to justify increased spending on housing and community development. The health benefits will flow, as will the savings, even if the two are not directly linked through financial contracts.
Defining what works is complicated: Community developers often talk about programs that "work" and the need to drive funding to programs "that work." U.S. HUD Assistant Secretary, Katherine O'Regan, pointed out that in the health field, the question is "for whom does the intervention work and to what degree does it impact different populations." She suggested, correctly I believe, that we need to understand these nuances and not look for silver bullets.
Health Impact Assessments are vital, but they're still an evolving tool: Health Impact Assessments (HIA) are being used across the country to assess the way different projects, programs and policies can advance health outcomes. The tool provides a structured way to engage stakeholders, review relevant research and assess alternative options. There was a strong sense, however, that we need to refine our use of this tool to ensure that the Assessments are completed efficiently and quickly enough to impact practice and policy. Mariana Arcaya from the Harvard Center for Population and Development Studies noted that while the standard HIA requires a multi-step process, perhaps some steps can be abbreviated or eliminated in certain contexts. MACDC is working with MAPC, Health Resources in Action, and MA DPH on a major HIA that is looking at the health impacts of the Community Investment Tax Credit program. We plan to release it publicly in late September, so be on the lookout for a notice about this event. Mariana
Community developers need to learn yet another acronym - CHNA: We also learned about the Community Health Needs Assessments (CHNA) that nonprofit hospitals are required to complete every three years. This process, which has some similarities to the Community Reinvestment Act for banks, is designed to get hospitals to engage with local community stakeholders to identify needs and to implement community-based programs that address the social determinants of health. We learned about a terrific effort by Mass General Hospital in Chelsea where they have worked closely with the local CDC, the Neighborhood Developers, and other community groups to address substance abuse and other issues. Many called the MGH program the "gold standard" that should inspire others to pursue similar efforts (although we were reminded by the other hospital leaders in the room that most hospitals don't have as much money as MGH!). I left thinking that this was a critical opportunity for all CDCs, although I'm still unclear on how much money might be available from hospitals.
The bottom line is that the convergence between community development and health is accelerating and both community developers and health professionals need to get engaged in the conversation, learn their counterparts' jargon, acronyms and policy frameworks, and build relationships with their new and future colleagues. MACDC will be looking to help with this effort and we invite your suggestions for how we can best contribute to this important work.