2022 Nomination Forms:
---
THE 2020 RICANNE HADRIAN AWARD RECIPIENT:
Yahaira Objio, Inquilinos Boricuas en Acción (IBA) -
Yahaira is the director of Resident Services at IBA. Two years ago, she moved to Massachusetts from Puerto Rico where she worked as a social worker for 17 years. Since she began working at IBA as a Resident Services Coordinator in 2019, resident engagement has increased by 100%. She helped to launch the Resident Ambassador Program, an initiative to build residents' leadership skills while they help others in their community.
During the pandemic Yahaira organized IBA's wellness calls to residents to ensure that they had the resources to cope with the effects of COVID-19. Under her leadership, IBA was able to provide access to remote and onsite programming under strict COVID-19 safety protocols. She has ensured that weekly food distributions were coordinated; residents could pay their rent online; and those who lost jobs could file for unemployment benefits and rent assistance. She helped to coordinate a vaccination clinic which benefited not just IBA residents but the surrounding community.
Her commitment to community engagement is evidenced by her ability to motivate her team to be "out there" connecting with the community, doing outreach in innovative ways and engaging IBA residents in important civic conversations.
Working at IBA allows Yahaira to continue practicing her vocation - working for equity and social justice as well as maintaining a direct connection with her culture and her Hispanic roots. She is currently studying at the Institute for Non-Profit Practice to continue developing her leadership skills.
THE 2020 RISING STAR AWARD RECIPIENTS:
Joselyn Feliciano, CEDC -
Joselyn, who was born and raised in New Bedford, started at the CEDC as an AmeriCorps Member in 2013 and now is a full-time staff member. She has helped to create a community garden and the "Love the Ave" campaign, a neighborhood beautification effort. In 2019 she became CEDC's Volunteer Income Tax Assistance (VITA) site coordinator. She oversees the preparation and filling of over 1600 tax returns each year bringing back 3 million dollars to the local economy. During the pandemic, Joselyn managed an emergency aid program to disburse privately funded stimulus payments to ITIN taxpayers shut out from the federal stimulus payments. Throughout her tenure at the CEDC, Joselyn has been eager to learn new skills and to develop efficient systems to manage complex programs.
Liam Gude, Hilltown CDC -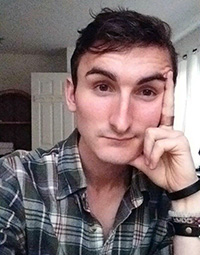 Liam has called Western Mass, and specifically the Hilltowns, his home since he moved from Martha's Vineyard to attend UMass Amherst. He became a board member of Hilltown CDC three years ago. When the owners of a local market decided to retire and sell their business, Liam volunteered to lead a public process to identify a buyer. He formed committees and scheduled meetings. The process included a financial analysis of the business and business plan development. The process was a success and a new owner now operates the market and it is better than it was before. He is now leading Hilltown CDC in forming a racial equity and justice project, engaging the community in a racial equity dialogue, and is working with people of color to establish a BIPOC-owned business in the Hilltowns. As a board member he strives to see the CDC move towards bold local and regional action on economic democracy, racial equity, and climate change solutions.
Miriam Ortiz, Just-A-Start -
Miriam has served as JAS's Director of Education and Training for two years, after serving as the director of Workforce Development for the year prior. In her current role she oversees job training programs that train adults - mostly immigrants and people of color - for jobs in the Life Science and Information Technology field. She also oversees the organization's YouthBuild program, which prepares out-of-school youth for careers in the construction and customer service fields. Miriam has increased the scale and enhanced the impact of these programs, raised their profile, and forged new partnerships that set the programs up to deepen and broaden their impact. Because of her leadership, these programs are both student-centered - supporting them in every possible way - and data-driven - holding Just-A-Start to high standards. Throughout her career, Miriam has built strong managerial, strategic, and operational competencies in her work with underserved populations, including mixed-status immigrant families, adult learners, and young parents. Originally from Mexico, and a resident of Hyde Park, Miriam has a personal commitment to working with people in her community with a strengths-based approach to remove individual and systemic barriers to educational, social, and economic mobility.
---
This award is for a CDC project manager or organizer who meaningfully engages local residents in building economically and racially just communities.
Ricanne Hadrian was MACDC's Deputy Director for housing and community reinvestment until her death in October 1996. She also designed the community organizing initiative, RHICO, name in her honor.
2021

Yahaira Objio

Inquilinos Boricuas en Acción

2020

Francisco Ramos

NewVue Communities

2019

Giovanny Valencia

Jamaica Plain Neighborhood Development Corporation

2017

Manlio Mendez

Neighborhood of Affordable Housing

2018

Spencer Buchholz

Lawrence CommunityWorks

2017

Manlio Mendez

Neighborhood of Affordable Housing

2016

Richard Giordano

Fenway CDC

2015

Katie Provencher

Urban Edge

2014
Marcia Thornhill
Nuestra Comunidad
2013
Angela Kelly
Madison Park DC
2012
Sarah Horsley
Fenway CDC
2011
Kyle Robidoux
JPNDC
2010
Dan Gelbtuch
DBEDC
2009
Nelson Butten
LCW
2008
Paul Hernandez
Oak Hill CDC
2007
Juan Gonzalez
ABCDC
2006
Lindolfo Carballo
CBA
2005
Allison Moronta
JPNDC
2004
Meridith Levy
Somerville CC
2003
Elizabeth Palma Diaz
ABCDC
2002
Alma Couverthie
Liz Gutierrez
LCW
LCW
2001
Jethro Heiko
Fenway CDC
2000
Donald Bianchi
Hilltown CDC
1999
Teodora Duarte
DBEDC
1998
Lizbeth Heyer
JPNDC
1997
Stacey Chacker
Sothea Chiemruom
NOAH
CBA
MACDC presents this award to a CDC staff person or board member who exemplifies outstanding commitment, leadership and achievement on behalf of the statewide movement.
Richard Smith was the Executive Director of the Fitchburg CDC. He worked tirelessly on behalf of his organization and his community. MACDC has presented this award in his memory since 1992.
2015
Jeanne Pinado
Madison Park Development Corporation
2014
Amy Shapiro
Franklin County CDC
2013
Steve Teasdale
Main South CDC
2012
Gordon Gottsche
Just-A-Start
2011
Gail Latimore
Codman Square NDC
2010
Mossik Hacobian
Urban Edge
2009
Danny LeBlanc
Somerville CC
2008
Susan Rutherford
Quaboag Valley CDC
2007
David Kielson
Hilltown CDC
2006
Richard Thal
Fran Volkmann
JPNDC
Valley CDC
2005
John Waite
Franklin County CDC
2004
James Hoffman
Mission Hill NHS
2003
Jeanne DuBois
Suzanne Buglione
DBEDC
Oak Hill CDC
2002
Gwen Pelletier
Lower Cape Cod CDC
2001
Joanne Campbell
Valley CDC
2000
Louann Harvey
CDC of So. Berkshire
1999
Robert Van Meter
Mary Lou Petit
ABCDC
Lower Cape Cod CDC
1998
James Holderby
Twin Cities CDC
1997
Barbara Burnham
Angel Bermudez
Fenway CDC
CBA
This award is presented to Executive Directors, staff or board members that are 40 years old or younger who have demonstrated their potential, outstanding innovation, leadership and achievement in community development.
2021
Joselyn Feliciano
Liam Gude
Miriam Ortiz
CEDC
Hilltown CDC
Just-A-Start
2020
Sarah Jenness
JaVonica Latson
Will Monson
Fenway CDC
Quincy Geneva New Vision CDC
Homeowners' Rehab, Inc.
2019
Ellie Gilmore
Jeena Hah
Katherine Martinez
Seva Tower
Worcester Common Ground
Asian CDC
Lena Park CDC
Hilltown CDC
2017
Gregg Desmarais
Sharon Fosbury
Lorena Salazar
Revitalize CDC
The Neighborhood Developers
Lawrence CommunityWorks
2016
Dariela Maga
Rafael Medina
Robert Torres
David Valecillos
Allston Brighton CDC
Inquilinos Boricuas en Acción
Urban Edge
North Shore CDC
2015
Andrea Aldana
Charise Canales
Rachana Crowley
Jason Desrosier
Lisette Le
Community Development Partnership
Worcester Common Ground
Valley CDC
Allston-Brighton CDC
Viet-AID
2014
Alia Abubakar
Shannon Erb
Sigute "Siggy" Meilus
Madeline Mendoza
Rosario Ubiera-Minaya
Urban Edge
Somerville CC
Community Economic Development Center of Southeastern MA
Twin Cities CDC
North Shore CDC
2013
Janelle Chan
Mashael Majid
Mark Matel
My Nguyen
Melinda Vega
Aspasia Xypolia
Asian CDC
Somerville CC
Nuestra CDC
Valley CDC
Jamaica Plain CDC
Viet-AID
2012
Jackie Giordano
Timothy Doherty
Iola Key
Michelle Miser
Robert Corley
Spencer Bucholz
North Shore CDC
Asian CDC
Fenway CDC
Allston Brighton CDC
South Shore NHS
Lawrence CommunityWorks
2011
Kristin Anderson
Thais DeMarco
Jackie Flores
My Lam
Patricia Mallios
Anne Schweitzer
North Shore CDC
Somerville CC
JPNDC
Viet-Aid
Oak Hill CDC
WATCH CDC
2010
Mickey Northcutt
Courtney Koslow
Maddie Ribble
Kevin Johnson
Quynh Dang
Melissa "Casey" Starr
Northshore CDC
Somerville CC
JPNDC
Madison Park DC
Viet-Aid
Main South CDC
2009
Erica Schwartz
Karla Torrez
Katie Provencher
David Thibault-Munoz
Jennica Huff
WATCH CDC
JPNDC
Urban Edge
Twin Cities CDC
Valley CDC
2008
Emily Loomis
JoAnna Ain
Luz Colon
Alex Zhang
Evelyn Hilaire
Chelsea NDC
Housing Corp. of Arlington
Madison Park DC
Asian CDC
ACT
2007
Dychell Reeves
Anabelle Rondon
Katie Anthony
Marissa Guananja
Jeremy Liu
Dorchester Bay CDC
ACT
Somerville CDC
Chelsea CDC
Asian CDC
2006
Heather Knopsnyder
Franklin Miller
Tamar Kotelchuck
Moira Noonan
Ana Luna
Allston Brighton CDC
Dorchester Bay EDC
Lawrence CommunityWorks
Lower Cape Cod CDC
ACT
---
MACDC presents the Excellence in Community Development Award to an individual or agency from the public sector that has provided exceptional support and leadership for the community development movement in Massachusetts.
2017
Chrystal Kornegay
Baystate Health
MA Dept. of Housing and Community Development

2015
State Representative Sarah Peake & State Representative Stephen Kulik
2014
Aaron Gornstein
Undersecretary for Housing and Community Development,
Massachusetts Department of Housing and Community Development
2013
Mayor Kimberly Driscoll
Mayor Lisa Wong
City of Salem
City of Fitchburg
2012
Governor Deval Patrick
2011
Mayor Thomas M. Menino
Attorney General Martha Coakley
2010
Senator Sue Tucker
City Counselor Barbara G. Haller
2009
Massachusetts Housing Partnership
2008
Tina Brooks
Massachusett's Undersecretary for Housing and Community Development
2007
Kenneth Wade
NeighborWorks America
2006
State Rep. Torrisi
2005
State Rep. Bosley
2004
State Senator Jack Hart
State Rep. Michael Rodrigues
2003
State Senator Harriett Chandler
State Rep. Kevin Honan
2002
Mayor Mary Clare Higgins
City of Northampton
2001
State Rep. Kevin Fitzgerald
2000
U.S. Congressman Barney Frank
1999
State Senator Diane Wilkerson
1998
U.S. Congressman John Olver
State Senator Stanley Rosenberg
1997
U.S. Senator John Kerry
Patricia Canavan

City of Boston
This award is presented to a person or organization from the private sector that has provided exceptional support and leadership for the community development movement in Massachusetts.
Jeffrey Graham was a community reinvestment officer who demonstrated a genuine commitment to supporting CDCs and their communities. In 2002, MACDC named this award in Jeffrey's memory.
2015
Clark University
2014
Ezra Glenn
MIT Department of Urban Studies and Planning
2013
Michael Durkin
The United Way of Massachusetts Bay and Merrimack Valley
2012
Paul Grogan
The Boston Foundation
2011
The Home Funders
2010
Harbor One Credit Union
2009
Ann Lisi
Greater Worcester Community Foundation
2008
Mazonson Insurance
2007
Margaret Harrison
Bank of New York Mellon Corp.
2006
Joe Flatley
Mass Housing Investment Corp.
2005
Pam Jones
LISC
2004
Cambridge Savings Bank
2003
Mathew Thal
LISC
2002
Gene Clerkin
Mass Housing Investment Corp.
2001
Greenfield Savings Bank
The Life Initiative
2000
Surdna Foundation
Felicity Hardee Esq.,

Bulkley, Richardson and Gelinas, LLP
1999
CEDAC
Citizens Bank
1998
Boston Community Capital
1997
Sister Annette McDermott, SSJ
Springfield Catholic Archdiocese